Coming off news of a possible renewal, Private Practice delivered a strong installment tonight. It should come as no surprise, considering the Seaside Wellness doctors have brought their A-game all season long.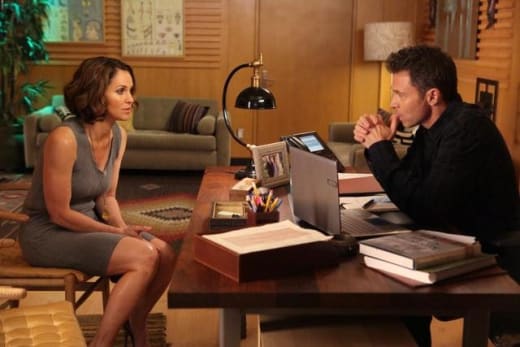 With more than enough drama to pass around between all of the doctors and their personal lives, most recent episodes have only shown a single medical case each week. Here, though, we were fortunate to see two different cases involving a child who has a gender identity disorder, and also an illegal immigrant facing deportation wanting to induce her pregnancy.
While I can't get enough of Addie and the gang's personal issues, there's nothing I love more than the way Private Practice makes me think and rethink my position on a variety of issues. I definitely found the mixed perspectives and discussions involving both cases interesting, as the line between right and wrong certainly seemed blurred. One thing's for sure: doctors have to make tough calls.  
In regards to the case with the 10-year-old girl, I thought that both Cooper and Violet did the right thing by talking to the girl without the parents' permission. After all, she did come to them desperately crying out for help.
As for other case, I'm just glad that I wasn't Addie and had to decide what was best and the right thing to do. Still, I had a gut feeling throughout the entire episode that the woman would try to take off with her baby. I was right! However, I want to know how she got out of her room - and even the hospital - with the two immigration agents nearby.
Elsewhere: Sheldon was still MIA, leaving Amelia to turn to Jake as a doctor and personal confidante. When she felt her baby kick, I so badly wanted her to talk to Addie. Honestly, I was just glad that Addie reached out to her regardless of the way she's been out of touch recently.
As for Charlotte and Cooper, they both spent most of their time at odds with one another. Rightfully so, Charlotte was still upset with Cooper about his preposterous statement from last week suggesting she wasn't Mason's mother.
I thought it was ironic when Cooper called Mason a jerk. Hi, kettle. This is the pot speaking. Luckily, Charlotte and Cooper made up in the end like they always do as they let the dust settle and Cooper finally apologized. I foresee more issues with Mason in the near future and Cooper needs to realize that it just isn't going to be easy. He seriously must step up and be an adult.
Meanwhile, who'd a thought that baby Henry would bring Sam and Addie a bit closer? Well, actually only closer if Sam was considered a part-time babysitter. Like Pete said, AddiSam circle back and forth and Sam just needs to stop trying to be a bad guy. I'm hoping Addie finds a reliable nanny so she doesn't need to rely on Sam anymore.
Finally, it's time for the Violet Annoyance Scale (VAS). I'm rating this episode a 5. I've got to give credit where credit is due, and I respect that Violet wanted to still try to convince Pete that counseling was the right route to take. Also, she emphasized several times that work was needed in order to get their marriage on the right track. However, all that self righteousness was for nothing. She still ended up sleeping with Pete. And yes, I know it takes two to tango.
By the way, what was Pete thinking by wanting to leave his family behind and help a random woman? When Pete told Violet he was leaving, she was upset and questioned how he could leave when their relationship was on the rocks. If I'm not mistaken, Violet has left Pete TWICE before when things got even just a little tough. Seriously, this just goes to show how messed up Pete and Violet are together.
Overall, tonight's installment was above average, but not quite near perfect as we've seen most recently. Let's hope that this season finishes strong and we continue to get amazing stories.  
So, what did you think, TV Fanatics? Hit the comments to share your thoughts on "True Colors." Also, don't forget to return later this week to chime in on our Private Practice Round Table.