Tonight's NCIS: Los Angeles was different than normal, thanks to Danny and Chin Ho visiting from Hawaii Five-0 in the conclusion of a two-part crossover. (If you haven't checked it out yet, read Jim G's "Pa Make Loa" review)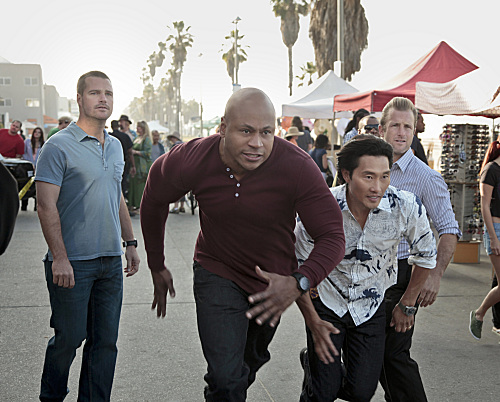 "Touch of Death" worked well, but the crossover was a bit of a mess. Even though they were tracking the same small pox, the cases were very different. Back in Hawaii, it was all about Comescu, but then it took an odd shift from Jarrod Prodeman selling to Dr. Holden in Los Angeles.

The connection between the experiments that Jarrod was doing, Comescu and then the sale of the small pox to Dr. Holden seemed far-fetched. Then, throw in the gang funding Dr. Holden and it was overly complicated and difficult to follow at times.

Dr. Holden was misguided in her mission, but her argument about the elimination of small pox is an intriguing one to consider. The world's population continues to increase and that is in a large part due to our ability to fight disease. If humans continue to defeat these population regulators, then what will happen? Overpopulation and starvation? Or, new, more deadly illnesses?

Outside of the actual case, the crossover was fun to see. On both Hawaii Five-0 and NCIS: Los Angeles, the collaboration between the two teams was authentic. The characters didn't seem "off," which often happens when they appear on other shows with different writers.

Instead, Danny and Chin immediately felt like part of the boathouse crew. Even though they were serious about the case, they were included in the team's normal banter. And, they gave it as good as they got.

Danny even got the coveted overheard by Hetty talking about her moment. Hetty may be short in stature, but she can definitely draw the fear of the strongest men, including Danny. Who was more afraid: Danny of Hetty? Or, Deeks of the small pox vaccination? Tough call! I guess it would have to go to Deeks, since he actually hit his head.

While there were quite a few funny moments - like those or Deeks and Danny having hair wars - the highlight of the episode was the conversation in the car between Sam and Callen. I hope Sam didn't jinx Callen by saying the only way he would retire was from a bullet. Ouch. Sam has a family and a life outside the job, but Callen is the job.

What a pleasant thought it was to imagine Callen chilling out in retirement. Pleasant ... but definitely odd. What hobby should Callen pick up? And anything to do with guns, knives or fighting doesn't count. Scrapbooking would be hilarious to watch. Maybe he should take up cooking. That could be the first step in actually creating a home.

Did you enjoy the crossover? What were your favorite moments?

Would you like to see another Hawaii Five-0 and NCIS:Los Angeles crossover next season?

Carla Day is a staff writer for TV Fanatic. Follow her on Twitter and on Google+.

Tags: NCIS: Los Angeles, Reviews
Want more NCIS: Los Angeles?
Sign up for our daily newsletter and receive the latest tv news delivered to your inbox for free!
More From TV Fanatic

Power struggles ensue all around Chester's Mill on Under the Dome. Lives will be put on the line.

Scott decides to get tough on Teen Wolf after rescuing his Beta by declaring he won't sit back and watch more deaths. Find out what else went down in the review!

Heather and Tamra consider making peace with Shannon on The Real Housewives of Orange County. See what went down in our TV Fanatic review!

On Murder in the First, the trial of Erich Blunt reaches its conclusion. But what is the verdict? Find out when you read the review.
---