Modern Family Review: A Modern Day Normal Rockwell
Leigh Raines at .
Last week's Modern Family was a lot about feeling the love at "The Happiest Place on Earth", otherwise known as Disneyland. While Disneyland is a place where people go to escape real life, the Pritchitt-Dunphy crew was brought back down to earth on "Tableau Vivant."
What other way to showcase the inner workings of a modern family (pun sort of intended) than to reinterpret one of the works of Norman Rockwell, Mr. All American Artist himself?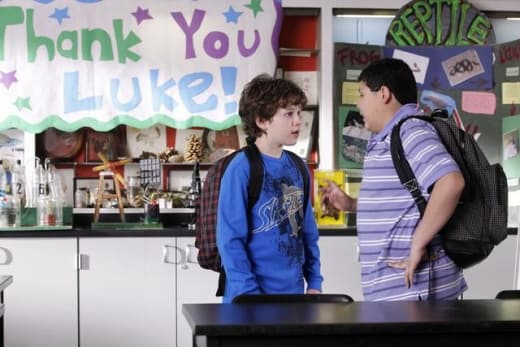 When teacher's pet Alex is bombing in her art class, she chooses to use her own family to reinterpret a Rockwell painting, "Tableau Vivant." Norman Rockwell is often referred to as one of America's favorite illustrators ,who has many a time painted a very idealistic picture of the perfect family. Thus this made Alex's choice all the more ironic.
Especially since by the time her presentation was up, the whole family was at each other's throats!
Phil had to fire Mitchell for some part time contract work he was doing. Meanwhile, Mitchell wanted to quit anyway and was trying to get fired. Phil was blinking uncontrollably from nerves. Skating around hurt feelings led to a bunch of miscommunication and a big fight. Oh, and Mitchell got stuck in an elevator for two hours.
Luke started a fire in school and only got caught as he was putting it out. Because he looked like a big hero the school rewarded him a medal, but Manny felt too guilty over the whole thing and was pushing Luke to confess.
Elsewhere, Cam and Claire were duking it out over whose parenting style was better. Note to every single parent on the planet: never criticize another person's parenting. Unless someone else's kid has set your kid on fire or pulled a knife on the playground, keep your mouth shut. It is not your place to comment on how someone else raises their child. It simply never ends well.
Lastly, Jay is insulted that Gloria doesn't like a special sandwich named after him. Honestly the sandwich has anchovies on it and I'm already nauseated by it. I think Jay just wants to feel special, but so does Gloria. Gloria was jealous of Jay's bond with Maxine.
Hands down my favorite part of this episode was small, but perfect. When Haley walked in after a night out and thought Phil was reprimanding her but really he was practicing his speech to Mitchell, I thought she was so busted. Especially when he realized she was carrying her shoes. But this is Phil Dunphy we're talking about here! Haley twisted it that she was nervous and trying on clothes for graduation. "Well put them on so I can see the whole outfit!" Phil mused. Classic Phil, I love him.
What did you all think of this week's Modern Family? Was Alex's art project the perfect metaphor for what used to be considered a Rockwell type of family compared to what the standard is now? Would you ever order the Jay Pritchett sandwich? Hit the comments and don't forget to check out our Modern Family quotes!