You really have to think about what the show was working with when writing "Brave New World Part 2." It had to determine what would not only be a satisfying season finale leading to another great year ahead, but what might allow viewers some fulfillment, if even brief, should it have faced cancellation.
I think the writers achieved the best of both worlds and have no doubt we will be in for a stunning final run of Fringe.
Still an avenger
Olivia's superpowers were beyond anything I imagined. Fifteen minutes in, flying was not out of the question. She was not only faster than a speeding bullet, but faster than one from a gun specially built by William Bell that couldn't be stopped by an Observer and that she could throw just as fast back at the shooter. Say what?! Bring me that cortexiphan STAT! I am ready to receive!
The sadness was that Olivia didn't even get a little enjoyment out of her abilities. Even one quick joke about Superman would have been kind of fun, but the circumstances were too dire. William told Walter and Nina figured out on her own the reason Olivia had been activated. She was the power source needed to collapse the universes. It was really too bad they couldn't curtail Bell and use her energy for good instead of evil. I say that while really liking very few comic book incarnations, so you can imagine how Olivia has won my heart.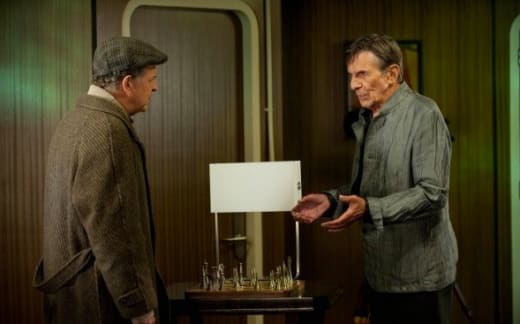 It was all Walter's idea
Creating a universe not run by God was Walter's idea. That was why he wanted parts of his brain removed. That made sense in this particular universe, but not in the other timeline. Previously, Walter might not have had "his" Peter but he did have "a" Peter. Would that have been enough to make him hate God so much as to destroy the universes and create one of his own?
The science God gave him to save the other Peter and bring him into his life had to make him realize just how powerful God was and give him a reason to keep the universes as they were. Or was the catalyst the same, but the reason behind removing the brain pieces different? One due to hatred toward God for taking his son away, and one due to love of God for delivering him a son and yet still wanting to rule his own universe?
Interesting philosophical discussion, and one that would have been more interesting if Walter knew all the creatures on the ship were humans who had chosen a different incarnation due to Bell's promises. I wondered why that wasn't discussed. I suppose it may come up next season when they start speaking and flitting between monster and human form.
Creepy bad dude of the year award
Rebecca Mader had to make one of the most frightening evil beings we've ever encountered on Fringe. The way they had her eyes rolling in different directions and blinking incrementally was terrifying. Now I know why she was so incredibly excited to see her portrayal on screen. Mader will give me nightmares, and I don't need food for them. Her part was small, and yet had a huge impact on the psyche. Freaky!
Dead, alive and normal
I wish I had been surprised that Walter killed Olivia, but once he knew she was powering the collapse, there was no doubt that given the opportunity he would stop it, even with as much as he loved her. After all, we had lemon cake and pig brains. Not to mention a letter opener. Is there any surgical device you would more wish to be saved with than a letter opener? I thought not. Thank God she was dead while he was performing that little surgical excursion. Can you even imagine doing that to someone who might live to remember it?
Walter's belief was after what had happened to her, the regeneration would essentially bring her back to a normal state. As she was hesitant with Peter in the hospital room I thought either she had a year to live or she was pregnant. Realistically, either would work given the potential future we saw because there would be time for both and in 13 episodes they could squeeze anything in, right? But knowing the threat of cancellation was looming over future of the show, I was so very glad Henrietta was encapsulated in Olivia's womb. 
Overall, we were given another thoughtful episode, created with foresight and two futures. Could we live without ever knowing what September meant by saying they are coming? Sure. Do we want to live without knowing that? No! Four brilliant, thought provoking seasons with a fifth on the way. What more could an intelligent view ask?
Other than infinity and beyond!? Thanks for reading. For all things Fringe related check out all of our content on our Fringe show page to keep up with the latest news and scoop until the fifth season premiere.
Carissa Pavlica is the managing editor and a staff writer and critic for TV Fanatic. She's a member of the Critic's Choice Association, enjoys mentoring writers, cats, and passionately discussing the nuances of television and film. Follow her on Twitter and email her here at TV Fanatic.