I know I've said this before, but I have to say it again:
I really enjoy how the writing for CSI has been embracing the culture of Las Vegas recently. While previously I mentioned it in regards to the number of wedding chapels in Vegas, this week "Dune and Gloom" took us outdoors for some desert racing.
Did anyone else think that Kathy Veck was behind the bomb from the moment Paula Marshall took her helmet off? Bravo, CSI, you got me, I fell for it! If you're not familiar with the trick I'm talking, about allow me to clarify: In most crime shows if you have three actors playing suspects and two of the actors are unknown and the third actor you know by name and can list shows and movies they have done... the third actor is the bad guy.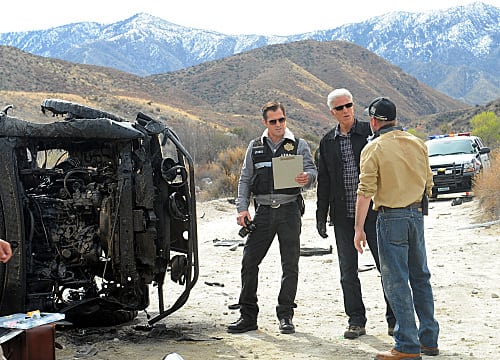 Actually, the writing in this episode was really solid. Beyond the red herring mentioned above, it also delivered some romance updates with a mention to Hodges' mother Olivia and Ecklie dating, along with learning that Fin and Moreno seem to have started making their way around the romantic bases.
Had you told me two seasons ago I would be rooting for Ecklie to have a love life I would have laughed at you. But here I am hoping we get to see a return of Jaclyn Smith as Olivia Hodges.  
The overall writing improvements seem to be partial because of the nods to earlier episodes in the season that make the team feel like they are not in a bubble, but are growing and evolving. Okay, maybe Hodges and his musk smell needs to be in a bubble, but then we would have missed the awesome expressions Morgan gave him over his aroma! 
Was it Danson's presentation or the message he was giving about Clive at the end that made it so powerful? Maybe a bit of both. I can really feel for Clive; losing close friends for any reason is hard, but to lose them in conjunction to the very thing you were fearing most - I can't even fathom.
Finally, as we wait for next week, here is hoping that the final episode for this season sends us into the summer excited for the fall and the return of our favorite CSI team! In the meantime be sure to check out our selection of CSI quotes.
Jim G. is a TV Fanatic Staff Writer. Follow him on Twitter.