So Max finally made it back. And "Tis Pity" Naomi was the one who bore the brunt of his ill-timed arrival.
Poor Naomi. She had a total freak out when she showed Madison her dream wedding location. But it was sort of hard to feel completely bad for her when she claimed to have lost the love of her life. Wasn't that Max just a few months ago? When did PJ become "the one that got away?"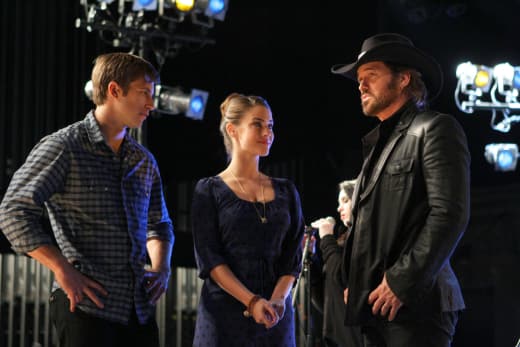 Was it wrong of me to think she looked stunning drunk off her ass in her wedding dress, wading in her pool. Unfortunately, true love just isn't in the stars for the girl. First, PJ made a fool of her and now she unknowingly had agreed to be the wedding planner for Max's wedding. Maybe by some twist of fate it'll end up being Naomi's wedding as well.
Elsewhere, Silver thought she was pregnant, which led to Navid confronting Liam at his movie premiere. Nothing like a good old-fashioned pummeling on the red carpet. Who could blame Navid him when he saw the way-too-amorous exchange between Liam and Silver? Another one unlucky in love. I would have suggested that Navid maybe give up girls altogether and join the priesthood but, seeing how that gig turned out for Annie's new beau, maybe staying in Princeton would have been the best thing to do.
Caleb and Annie gave in to temptation and finally got together. Okay then... it's official. Annie is a slut. And unfortunately Caleb overheard her conversation with Austin trying to hide that fact. Just how many men can Annie destroy? And how soon before Caleb goes running to the confessional?
Austin's dad, Dudd, er... Judd Ridge, was brought in to help Adrianna with her music career. Billy Ray Cyrus was as repulsive as ever but it was Austin who actually turned out to be a bigger annoyance. Adrianna didn't think she could stand another doomed partnership. Have to say I agreed. She's certainly been around that block a time or two.
At least she gave Liam some good advice about giving his heart a break before jumping in another relationship. Not that he listened. And when did Austin turn into such a douche? Badgering Adrianna and Annie about his manager duties, blah, blah, blah. Like father, like son.
I loved Ivy this week. Bitter and hostile in the nuthouse. Yes! It was cool of Diego to come to her rescue and break her out. But did Ivy need to lose yet another guy? I can understand that Diego feared he'd get deported but to run off can't be good for Ivy's mental health. Guess she'll be using a whole lot of spray paint to ease her pain again.
So what did you guys think of this week's developments?  Will Naomi go over the bend and sabotage Max's upcoming nuptials?  Will Siam continue to thrive? Will Diego be kicked back over the border? Inquiring minds want to know.
Check our 90210 quotes and shout out your comments!