The complex nature of Touch's plot has, at times, made finding the heart in the story a challenge. But last week's episode continued to build momentum, and "Entanglement" stepped up the game.
I found all of the moving pieces of this plot fascinating and every one of them tugged at my heart in some way.
Let's start with Martin looking at pictures of Jake as a newborn. The look on his face conveyed the love no words could. Jake's evaluation meant the world to him, but I had a strong feeling that he'd never make it there.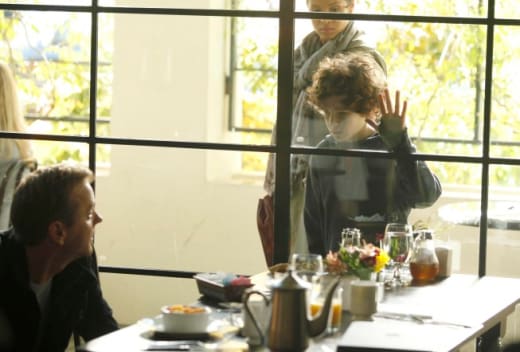 This time, Jake was communicating through patterns. Not being a math major (I barely passed high school geometry) I never realized that circles had points. This time it wasn't only the number that Martin followed, 22, it was also the beautiful circular pattern.
The petty criminal who stole Martin's laptop was the weakest link in this story, but I understood he was the thread that lead Martin to the #22 bus and Marisol. I really couldn't blame the girl for wanting her revenge against the man who murdered her family. The tale she told was horrifying.
But I couldn't believe how quickly Martin made the jump from telling her that her brother was alive to assuming he was the boy in Canada that needed the bone marrow transplant. I know there's a mystical, spiritual quality to the show that makes it necessary to suspend your disbelief but that was a leap I had trouble making.
My favorite story was Norah's. She was just a normal teenager caught in a world where simply being herself and yearning for adventure could have gotten her imprisoned or killed. 
And I loved Norah's sarcasm and sense of humor, despite her status within her culture. One of the best of the Touch quotes in this episode came from her when the car it was illegal for her to drive ran out of fuel.
How did I know E was bad? They should have picked a more threatening letter. | permalink
Although I saw it coming, I was still appalled that the woman Norah helped save judged her so harshly that she wouldn't ride in the same car to get to the hospital. I wasn't quite sure if it was fear or contempt that made her shun the young girl who risked her own safety to help deliver her baby.
It was a pleasant surprise to see that Norah's father wasn't some evil tyrant, just a man living within a cultural that impeded the growth of his smart, independent daughter. That he was willing to look beyond what he'd been taught was a refreshing twist to this story.
That the other family found out that their successful son had found true love in Canada via Facebook was truly ironic. The world is changing and even personal information hopscotches around the globe at record speed.
In previous episodes many of the connections between the stories have felt contrived. Not so tonight. This time when the thread pulled tight it felt like a natural progression of the lives involved. The twists of fate somehow made sense.
But I was certainly left with some lingering questions. How bad off is Teller? Is his daughter right? Has he fallen down the rabbit hole and is he taking Martin with him? 
Why did Martin's sister-in-law try to take Jake away from him? And is there any chance we'll be seeing Norah in New York sometime in the future? I hope so. The girl was smart and spunky and had a lot of potential.
As Touch continues, it wraps me into its story in ways I hadn't expected. How about you?
C. Orlando is a TV Fanatic Staff Writer. Follow her on Twitter.