Season two got off to a decent start eliminating Richmond as a suspect (but really, that would have been way too obvious), sending Stan Larsen back to his former Polish mob boss, and breaking apart the duo of Linden and Holder while sending the latter into a tailspin.
Essentially the slate was wiped clean and we're back to square one with no real idea of who killed Rosie Laresn. If you really think about it, you probably wouldn't even need to watch season one to catch up beyond knowing each of the characters.
Except "Numb" left me feeling exactly that: numb and perhaps a little bored. The episode really took the time to focus on its characters and how each has become dazed and trapped within their own feelings of gloom and rainy depression. Although even with a setting and tone of the show that revolves around the deep seated drama, at times the hour felt like it was dipping its toes a little too deep in the melodramatic pool.
I think everyone could just really use a big hug.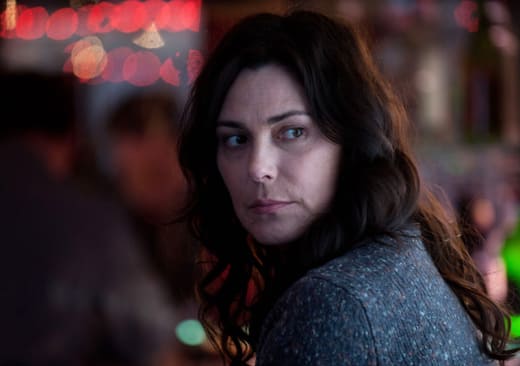 Watching Mitch play the woe is me card was obnoxious to watch back during the freshman season and surprise, surprise, it still was painful. Maybe I just don't get it, but really, how can you just leave your husband, your children, your family, so you can go soul searching and wind up drinking in bars and hooking up with other men. She does not get my vote for mother of the year even if she is still grieving.
But hey, so is everyone else on this show. At least Stan is choosing to move forward, even if it involves bringing back Janek into his life.
It was rather interesting that Janek is somehow connected to Beau Soleil. Are we to assume that he ran the prostitution service? And with one of his men having the Japanese tattoo that was taken from the Super 8 video of Rosie on the day she died mean that the conspiracy runs right into the mob?
But was that tattooed crony really dumb enough to drive a Stan Larsen van right before he potentially burned down the shoe store that carried the Beau Soleil computers that Janek ended up moving/taking? The connections just seem to dot to dot too easily.
I smell another red herring on the horizon.
Yet even as the story really didn't seem to progress anywhere until the bitter end, there really is something riveting about watching Joel Kinnaman's performances. One minute he plays the cool uncle and the next he's filled with angst, frustration, and a feeling of not knowing what to do. He doesn't always need to speak exactly what's on his mind and rather we get to see his bumpy road of a path through his acting. Kinnaman brings a life to his character that truly shines, even if Holder is trapped in a particular darkness.
I'm glad that Linden finally came back to Holder because the two work great as a team and Holder certainly seemed on the brink of falling back into his old ways. I really was never sure what his final decision might be, but I think the two will be able to build a more solid trust as they dig deeper into the case. Time to find out more about that backpack.
Which, while I'm thinking of it, couldn't understand why the former Lieutenant Oakes took the backpack Holder had placed in evidence, only to easily give it up Linden. Why wouldn't he simply get rid of it? What was the point there beyond allowing Linden to realize what Holder had done?
As for Richmond, I'm still having a hard time jumping on board with his scenes. It's not for lack of character development because we know plenty and recognize his determination to succeed even against the odds. I guess because he's not really connected to the case anymore that makes me feel like what's the point. Unless somehow the campaign is drawn back into the murder for a second time…
Overall, this episode was a little too slow for my taste and coming off the heals of a promising premiere wasn't what I had expected in terms of pushing the show forward. The Killing remains interesting through its use of style and formula but it needs to find a way to combine the character struggles with the investigation on a more even level so I don't feel as numb as the characters do.
Sean McKenna was a TV Fanatic Staff Writer. He retired in May of 2017. Follow him on Twitter.