Parks and Recreation Review: No Spin Necessary
PaulJ at .
Let's take each part of "The Debate" individually, okay? Then you're all invited up to my dad's lake house for a party...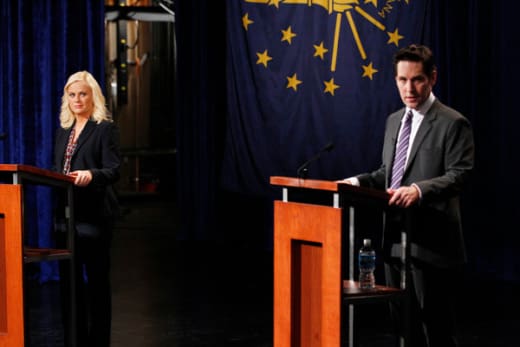 THE DEBATE: If one good thing came out of the 1,359 GOP debates this primary season, it was the amount of material it gave the Parks and Recreation writers. From the vacant answers, to questions from Twitter, to a discussion of how much time Leslie had left to answer that ate up the remaining time, the debate degenerated into nonsensical, hilarious sound bites.
Paul Rudd returned as the pleasant dolt Bobby Newport, and he was delightfully excited for Leslie ,even after she ripped him a new one. There might be better actors than Rudd at playing a big dumb puppy dog of a character, but he's got to be in the top five at worst.
Nice touch: I loved the reference to Hoosiers with Ben measuring the podium.
SPIN ROOM: I know the popular opinion is that the Tom/Ann relationship is forced and that the writers don't know what to do with Ann. And I'm contrarian by nature, so I want to argue in favor of the relationship. But I can't. Tom and Ann are boring, and, frankly, degrading to Ann, and they must stop.
I can only hope that Ann sticks with her inclination to never date again because they still need to develop her character. If I asked you to describe any other character on the show, it would be no problem - Tom has delusions of grandeur, Leslie is Type A, Ron is manly, April is dour but has a heart of gold, Chris is incredibly positive, etc.
But Ann can really only be defined by who she's dated and as Leslie's best friend, which is too bad, because Rashida Jones is such a gifted comic actress.
DONOR'S PARTY: I could sit and listen to Andy act out his favorite movies - Roadhouse, Rambo - all day. (You just know Red Dawn was coming up.) This was really a showcase for Chris Pratt, and he killed it. That means there wasn't much for April or Ron to do, though having Ron sing "Wichita Lineman" while he's stealing cable was a great touch.

Bonus: Andy's synopsis of Rambo: "Bottom line, they go up river - does not go well!"
So, does Bobby stand a chance in this election? Read up on the latest Parks and Recreation quotes and sound off now!