Last Monday, Lost Girl ended its first season with an explosion that altered the Fae world.
The season two premiere, ""Something Wicked This Fae Comes," picked up three weeks later and the situation had only worsened.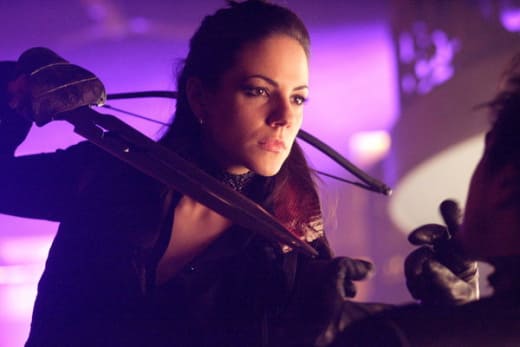 With Dyson missing, the Light Fae Council decimated, and Under Fae out loose, Bo had her hands full working to restore order with Trick, Hale and Kenzi. But the real story was aftermath from the sacrifices made to save Bo from her mother.
Did Dyson really lose his love for Bo? Their reunion was quite memorable. What a punch! What doesn't make sense is if Dyson no longer cared about Bo, why didn't he tell her the truth right then?
He clearly remembered that the Norn took his love for her, but is it gone? When he held his distance or gave her the brush off, it wasn't because he was ambivalent about her, rather he was protecting both of them. Those weren't the actions of someone without love.
And what about the kiss? Did it work, Disney Princess style? Unfortunately, Hale's recommendation didn't seem to be effective. Dyson and Bo are meant to be together and in the Fae world magic can be overcome.
When he finally revealed the truth, he told Bo, "... making it impossible for me to feel anything for you ever." But he didn't look like someone without feelings, did he? Hopefully, this season will be the journey of them finding their way back to each other.
I'm more worried about what the outcome will be from Trick using his blood to save Bo. He thought the price for his sacrifice was the finding of the Sword of Agros and the breaking of the Heart Stone. Sadly, it appears the repercussions will be something much worse.
Bo saw the Nain Rouge, in the form of a little girl, who warned her about an upcoming disaster. What did Trick do? The little girl warned, "Something old and terrible has awoken and it is coming straight for you."
And, with that, the stage is set for the second season of Lost Girl. Will Bo and Dyson be able to find their way back to each other? Or will Bo move on from Dyson with someone else, perhaps Lauren? And, what is this evil that is coming for Bo? The troubles in the Fae world have just begun.
Carla Day is a staff writer for TV Fanatic. Follow her on Twitter and on Google+.