Grimm Review: Obstacles, Clingers, and Disgust
Nick McHatton at .
"The Thing With Feathers" accomplished one thing: being one of the first shows to truly make me sick to my stomach. I can handle a lot of what television throws at me, and not much makes me actually get dry the heaves.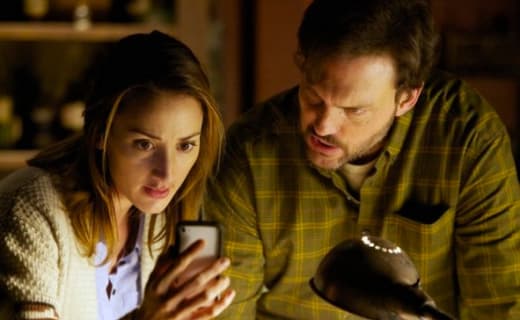 But watching Robin, and seeing that tube stuffed down her throat? While not the nastiest thing in the world, once it was combined with the pump and its sound effects, I nearly lost my dinner. Congratulations Grimm, I'm officially grossed out.
Please don't try to top it.
Surprisingly, Nick slicing the egg out of Robin's throat didn't bother me in the slightest.
Getting to the episode, not much happened this week, and for the most part Grimm suffered because of it. Most of it is due to the unresolved obstacles between Nick and Juliette. I'm all for characters growing further apart as the secrets one or more of them harbor continue to pile on and on, but when it happens too quickly or things begin to get out of hand it's time to change things up or resolve it.
Grimm has reached that point.
Nick has embraced being a Grimm, there's no question about it, he has taken on the responsibility without knowing what exactly he's getting himself into, and his intentions are noble from both sides: he wants to protect Juliette from getting harmed from this new aspect of his life and being a Grimm helps him be a better Detective. Having Nick pulled from all of those directions has made for some great obstacles. But with the amount of danger Juliette is being put in episode after episode how much longer is she going to be unnecessarily kept in the dark?
Juliette has to be given credit for acknowledging the rift that is developing between her and Nick, and turning down his engagement because of it. I'm glad she did so, it's not fair to either of them, and their marriage won't work if they begin it built on a bed of lies that keeps expanding by the day. Hopefully, with this newfound rejection Nick will begin to consider bringing Juliette in on the secret.
The other thread running through this episode is Hank's greater and greater obsession with Adalind, and just like "Island of Dreams," I'm still not impressed with Hank. I know his stage five clinger status isn't his fault, but at least make it fun. Right now it's mostly awkwardness and some secondhand embarrassment from bearing witness to it.
Thankfully, Adalind is fun to watch.
A Few More Thoughts:
Does anyone else want Nick, Eddie, and Rosalee to open up a PI business and hunt down the weird and unexplained over Nick being a cop? This idea is beginning to sound like a Buffy spinoff.
Nick getting a wifi signal in the forest for Facetime must be another Grimm ability.
What were the passports for in Rosalee's brother's shop?
Wu enjoyed some paperclips for lunch today. What will he eat next week?