Fringe Review: Make Way For A Different Happy Ending
by Carissa Pavlica at .
I always forget that they don't have coffee in alternate universe. Between Fauxlivia's craving a Latte and their little spat about Mantis and Batman "Everything in its Right Place" shined a light on what I love and have missed from our visits over there.
Have any of our other alternates ever had a moment of sharing their past information as did the Lincolns? I really enjoyed that, especially since Lincoln was trying to determine how Alt-Lincoln became so incredibly confident and he didn't. Who wouldn't want to know those things? Addressing it was so fun and interesting to me. Am I the only one?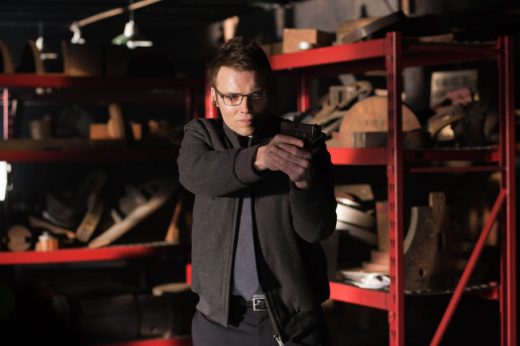 So the shapeshifter they were chasing was the first, and a mistake. Have we seen others shift in the way he did? I definitely preferred the metallic gizmo we've seen used to pluck out life force rather than that (insert your own opinion of the turkey neck looking item here) thing that he was jamming down people's throats. Talk about gag worthy! Is that what made him a dud?

I completely lost track of the season and wondered why Broyles' had a beef with Lincoln. I thought he was pissed that our team was looked at like heroes over there. Hello! Bad guy. Perhaps even a shifter himself. There was so much going on with Peter and Olivia that naughty Nina and bad Broyles had escaped my train of thought. At least his unpleasant behavior gave the Lincolns more of a chance to bond. Thank God they took advantage of the time they had.

The rest of the show came out and smacked me in the face. When Alt-Astrid entered Broyles office, I was certain she had something to say about his being a shapeshifter, or Nina. The death of Alt-Lincoln? NO! No. And yet, it made perfect sense. Lincoln was going to be in love with Olivia, one of the Olivias, no matter what. With Alt-Lincoln's death, a door was opened for him to step into a man's shoes who he admired, who worked closely with someone with whom he was already fond. He had an opportunity to face himself in a way most of us will never be able.

Lincoln chose to stay on the other side to help Fauxlivia for a while. Maybe that will be his chance to find his own footing, his own home, the one place he's never truly felt in his own world. But what will that mean for us? I hope it means more dual universe episodes, because I don't want to lose more characters. Lincoln has become very beloved this season, and if that was to draw us closer to Fauxlivia, they didn't need to go that far. But welcome new recruits!

Were you as shocked with the night's events as I was? Nina in holding, Alt-Lincoln dead after a gunshot wound, even though he survived becoming a crispy critter when we first met. Where will that leave Broyles? He's going to feel pinned to the wall with them crumbling around him. How will Lincoln rise to the new challenge and fill Alt-Lincoln's shoes? Where will our team fit into this new dynamic?

This season has been outstanding so far. What say you?

Carissa Pavlica is a staff writer for TV Fanatic. Follow her on Twitter and on Google+.

Tags: Fringe, Reviews
From Around the Web