I, like many TV Fanatics, wondered how long the crew of the Astraeus would be trapped in the virtual world created by Beverly Barlow.  
Fortunately, "Force Quit" answered that question for all of us, as Beverly Barlow helped get Jack into the virtual construct to help save everyone.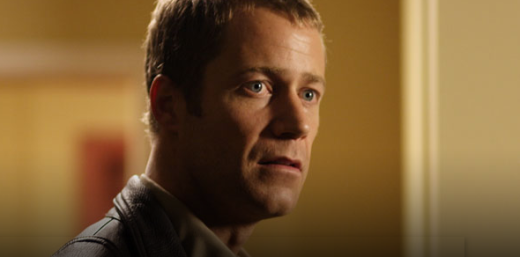 I have to hand it to Jamie Paglia and his team. Using a single episode for each of the three "acts" of the virtual reality story was quite brilliant. Also, I'm glad that our final season will not be a constant struggle to find the crew or watch the crew try to escape the virtual world. I can watch The Matrix any time I want, thank you.
That aside, watching Jack in the virtual world offered some classic moments for Colin Ferguson.  
Is anyone else totally heartbroken for Fargo and the loss of Holly? I knew her death last week would be met with some skepticism and I hoped she wasn't really dead. But, alas, like Fargo, we have to adjust to the loss. I'm just hoping that we get to see Fargo move on and find happiness again before the end of the season. 
Speaking of finding happiness, watching Jack and Allison together again reminded me why I love them together so much, as exampled by this offering from our Eureka quotes section:
Jack: It's me, the real Jack, I love you.. Do you trust me?
Allison: No.
Jack: Really??! I thought that would go differently. | permalink
Okay, I'm going out on a limb and say that I have a new respect for Barlow. Which is a far cry from where I was two weeks ago. I know that many of you won't agree with me, but watching her try and convince Henry why she has done all that she has made me better understand her motivations. 

That's not to say I agree with them, but I see her closer to a vigilante who is doing what she believes is right, even if it breaks the law. After all, she did save Carter when she could have easily taken off and let him die. 

Besides, regardless of wither you love her or hate Beverly, you have to enjoy the irony of what she did with Senator Wen by trapping her in an Escher-like version of the sheriff's office. 

Does this tidbit tell us we may see Wen and Beverly again before all is said and done? 

Jim G. is a TV Fanatic Staff Writer. Follow him on Twitter.

Tags: Eureka, Reviews