Another week, another solid episode. Following up from last week's "47 Seconds," Castle returned with "The Limey." The hour featured great guest stars, forward movement and some hot looking people. Let's discuss.
International Love. The weekly case focused on the murder of a British model who had been looking for clues to the murder of her doctor boyfriend. The victim found herself in the company of a rapper and British Consulate director who was played by Charles Shaughnessy from The Nanny. The case was pretty standard. Typical twists and turns, but interesting and entertaining nonetheless. 
How hilarious were the two rappers?!? Biggie Slim and Nikki J? Classic Castle humor. The other best thing about this installment? Well, that would be...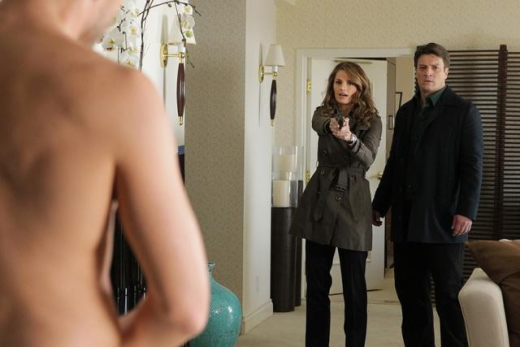 McSteamy McScotland. Hello, Brett Tucker! Where have you been hiding? Apparently on several episodes of Spartacus, which I will now be catching up on. Tucker played Detective Colin Hunt and he played him well. This was a welcome addition to the series and I personally wouldn't mind having him drop in another time. The accent combined with the towel scene? HOT.
Girl Time. Kate and Lanie shared some long overdue BFF moments, with Lanie pushing Kate to admit her feelings for Castle. Can I just say: it is about time. Even just the fact that Beckett had admitted her feelings is a big step in this situation. 
Points to be acknowledged: Castle is not the same man he was in the earlier seasons, he has grown up and has been patiently waiting for Beckett. Truth time? He is not going to wait forever. Case in point? Castle and his flight attendant spending all types of time together.
Beckett is great - but so is Castle. He is a successful and caring father. Clock is ticking.
So, what is to come of this? Both characters have now put their feelings out there. Will Kate make a move towards Rick or are the writers going to string us a long for a few more episodes?
I have said it before and I will say it again: This series displays some of the best acting on television, and half of it can be told without words. This show is driven by the facial expressions and emotions performed by these great actors. You could watch it on mute and still be able to feel the tension and feelings through the TV. 
Beckett looked beautiful in her dress for the party. It's always nice to see the girl out of her slacks. Even if they are always perfectly tailored. 
No Martha or Alexis. Did we miss them? Not really.
Some great Castle quotes came out of the hour. Be sure to check them out.
Looks like Lanie is a big Caskett fan like the rest of us!
We're on the countdown now towards the end of the season. What can we expect? Will Kate admit her feelings to Castle? Will Lanie and Espo get back together? Will Gates ever get more screen time? How about Alexis? Is she headed out of the city for college?




Another solid episode from the dependable writers of

Castle.

Hit the comments and let us know what you thought of "The Limey." Was it a let down after the previous intense episode? Is it about time that the Caskett starts taking baby steps? Don't forget to check back for the

Castle Roundtable 

and come up with your season end predictions. No new episode next week, so until next time, TV Fanatics.  

Tags: Castle, Reviews
Want more Castle?
Sign up for our daily newsletter and receive the latest tv news delivered to your inbox for free!
More From TV Fanatic

On Perception, Daniel and Kate investigate an art heist. Also, Daniel must make a decision about his love life.

Things on Pretty Little Liars looked pretty darn bleak this week as Hanna's friends started to get sick of her but Zack couldn't get enough. Read the review for more insight into the latest installment!

Evan, Paige and Bob confront Russel about his rug theft, while Divya and Jeremiah treat a woman desiring to be a mom. But were those all the surprises the Hamptons had to offer? Read our review of "I Didn't See That Coming" now!

On Chasing Life, Leo makes wishes come true. Elsewhere, Brenna meets her other sister, discovering one more family secret. Read on for more!
---