Following a brief federal prison riot and a heated debate over religion, mythology, germs and birthing venues, Bones and Booth welcomed a beautiful baby daughter at the end of tonight's watershed installment.
The arrival of Christine Angela Booth was sure to make for a memorable episode, but there was no guarantee it would be outstanding. You can thank show-runners Stephen Nathan and Hart Hanson for that.
"The Prisoner in the Pipe" delivered in every respect, blending laugh-out-loud humor with a heavy dose of heart and the backdrop of a murder case that, while an afterthought, still wasn't phoned in.
Considering that we knew the ending - and many details - in advance, the expectations were exceedingly high for this evening, and Hanson and Nathan deserve even more credit for coming through.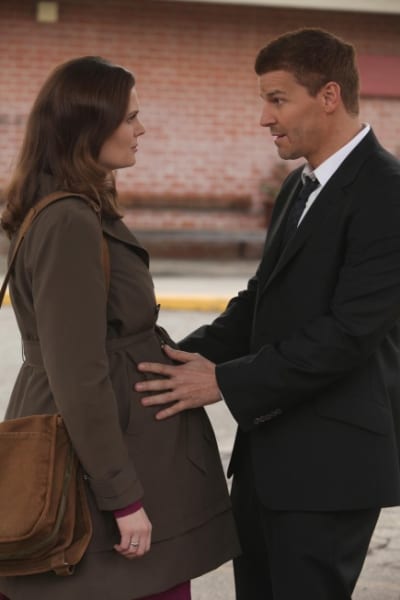 This may sound like a press release for the show, but it really was that good. Not even Fox's inadvertent sabotaging of the show with repeated schedule changes could take away from this.
Hopefully, with tonight's terrific chapter - its first on Monday night and only the seventh of Season 7 - kicking off the spring run and Bones renewed for Season 8, some normalcy will begin to sink in.
To put it in perspective, we learned Brennan was pregnant last May, yet she gave birth tonight, more than 10 months later! Rarely do things take longer to unfold in the TV universe than they would in real life.
At least it was worth the wait, as "The Prisoner in the Pipe" brought the laughs early and often, starting with B-squared's hospital tour and their repeated squabbling over where she should give birth.
To further her case for having a home birth, Brennan busted out the black light to prove that a hospital, while theoretically the safest venue, is essentially a petri dish of disease and blood stains.
It doesn't get much funnier than Brennan's blunt descriptions of female anatomy, or Booth lashing out against soccer and evil cappuccino makers when he feels like he's losing control of his life.
In a way, little has changed since the old days for the crime-solving tandem, except that she's lost 8-10 IQ points and is enormously pregnant, proving limitless material, both humorous and serious.
These circumstances also manifested themselves during the case, perhaps most memorably when the sea of prisoners parted during a full-on riot to ensure that pregnant Brennan wasn't in harm's way.
That would just be sacrilegious, after all.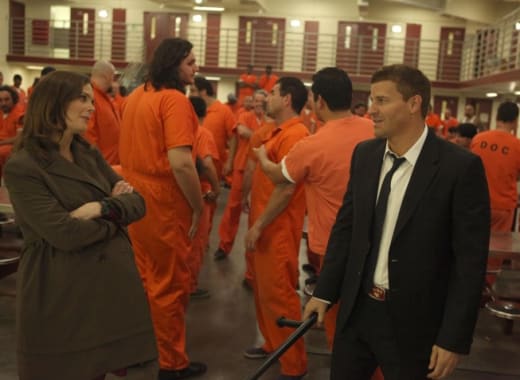 The way Booth and Brennan clash over specific details (where to live, where to have the baby) and broader concepts (science vs. faith) has defined the seven episodes since they became expectant parents.
As such, the show has remained true to itself despite altering the relationship of its two leads in a way that once seemed incomprehensible. A commendable achievement, if you stop and think about it.
It's obvious that Booth and Brennan are going to make this work, and not just for Christine. There will continue to be (hilarious) arguments, but they've both grown significantly as their romance blossoms.
This was clear even before their little angel was born in a manger. Booth's "I love you" outside the prison was as special as any moment in the show's history, and wasn't even a major plot point.
As for the actual birth scene - with no room at the inn near Jamestown, and Brennan forced to deliver in a nearby barn - would've been unacceptably cheesy on any other show, yet was vintage Bones.
The writers have consistently done a wonderful job of tackling increasingly weighty subjects, yet striking the right balance with the show's comedic strengths and not taking things too seriously.
Having said that, could Christine have been introduced any other way?
The best thing about the sign saying WELCOME STAPES, for the smallest bone in the human body, is that knowing Brennan, you had to wonder for a split second if that were the actual name.
Fortunately, it's not, and after she introduced Christine Angela (named for Temperance's mom, and best friend) to the team, the closing montage was tear-inducing, ending an A-plus hour on a perfect note.
The case of the week, while clearly secondary to everything else playing out, still offered its share of mystery and noteworthy scenes, from paper shivs to acid baths and a poor man's Bernie Madoff.
Besides, as Brennan noted, at least she worked her last case before becoming a parent in an accredited health care facility. Remarkably, this did not do much to assuage Booth.
Next week, we'll begin the next chapter of this saga, with B&B and their new arrival as a family unit. How will that go? I have absolutely no idea, but can't wait to find out.
A few other observations and Bones quotes before turning it over to your comments:
Any parent attempting to toilet train their toddler after watching this week's opening "body find" may have a hard time doing so with a straight face. 
Good to see Daisy back this week, and still as aroused as ever by Sweets. Always fun to see the Sweets-Booth bromance in effect as well.
Best line: "She'll do it. She'll squat down right here on the lawn." - Booth, to innkeeper
Second place: "You're not getting anywhere near my cervix, Ms. Wick." - Brennan
What did you think of this week's Bones? Sound off below!
Steve Marsi is the Managing Editor of TV Fanatic. Follow him on Google+ or email him here.