With only five weeks left for American Idol, the competition is heating up for the remaining seven contestants.
Last night, they performed songs from "now" and "then." Now, the judges' save has been used, so, as Steven said in the intro, "there are no more safety nets."

Ordinarily two contestants would go home in the week after a save, but I think because of Jermaine Jones' premature departure, we're only losing one contestant tonight.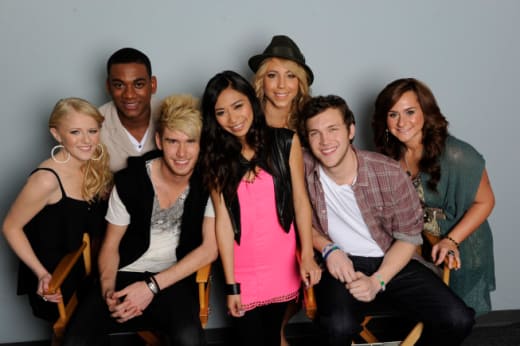 Let's see what Jimmy had to say about last night's performances and find out who'll be leaving.
Joshua Ledet and Hollie Cavanagh are up first. Jimmy says Hollie came out of her shell last night, but he doesn't think "Son of a Preacher Man" will keep her out of the bottom three. If Joshua's going to be in the finale, all he has to do is stay consistent. Truth points, Jimmy. Hollie was better last night than she's been this entire time, but probably not good enough. Joshua, with every current song he's able to sing, grows on me because those songs help make him relevant.
Joshua is the first to be declared safe. Hollie is the first to head to the bottom three.
Season 8 winner Kris Allen is in the house performing his new single "The Vision of Love." It sounds exactly like what you'd expect a Kris Allen song to sound like. I think Colton Dixon is what would happen if Kris Allen and Adam Lambert had a baby.
Skylar Laine and Elise Testone take center stage with Ryan next. Jimmy thinks Elise fell flat with "Let's Get In On." Jimmy thinks she's headed to the bottom three. Jimmy calls Skylar "the little engine that could" and says she's the best performer in the competition. Elise isn't connecting with the audience and I'm not sure if it's because she won't let herself connect or if she's at a disadvantage because she's constantly compared to girls 12 to 13 years her junior. Either way, it's hurting her. Skylar, on the other hand, just keeps moving up. She's got the spunk and personality that Jessica and Hollie lack and she's relatable in a way the others aren't. That's working to her advantage.
Skylar's safe. Elise is in the bottom three.
LMFAO are here to perform "Sorry For Party Rockin'." If I didn't know better, I'd think they were a joke. Except I know they're a serious musical act which makes them silly and entertaining somehow. These guys are crazy! The thing about an act like this is that if THEY can make it in music, any of our remaining contestants can, too.
Phillip Phillips, Colton Dixon, and Jessica Sanchez hit the floor. Jimmy says he had a light go off last night--Jessica's singing songs that are too old for her. No, you don't say! He also said Phillip and Colton were on opposite ends last night with Phillip coming out the winner. While Phillip seemed like he could've written the Usher song himself, Jimmy hated everything about Colton's "Bad Romance" and had nothing to say about his rendition of "September." I think Colton did better last night than Jimmy gave him credit for, but no, "Bad Romance" wasn't his best. I think Phillip will be in the finale at this point.
Jessica's safe. So is Phillip. Colton's in the bottom three.
Elise is sent back to the couches which means either Hollie or Colton will be going home. After a commercial break, and after Kieran dims the lights, Ryan announces that Colton Dixon is going home. I didn't see this coming. Not this week. I think America got this one wrong.
For someone who never intended to audition, Colton Dixon had a great ride.
What do you think? Did the right contestant go home tonight? Who do you think should've gone home?
Miranda Wicker is a Staff Writer for TV Fanatic. Follow her on Twitter.