Another one will bite the dust tonight on American Idol. If the results from the poll on yesterday's review are any indication, TV Fanatic readers think the unlucky one tonight should be Hollie Cavanagh. All of the remaining contestants are talented, that's for sure, so with only six left, who goes home each week is really anyone's guess.
Tonight we'll get performances from Katy Perry and Season 10 contestant Stefano (Langone. It seems he's dropped his last name and is attempting to pull a Madonna). And, of course, Jimmy's in the house.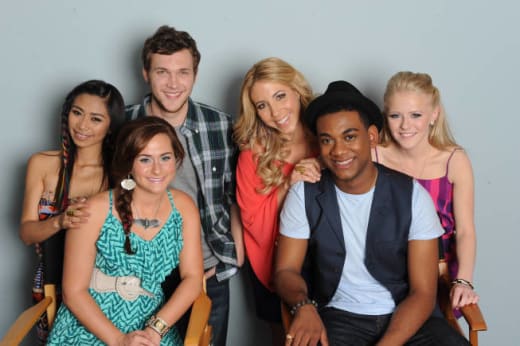 Before we get to any results from last night's 58 million votes, we're subjected to a performance by cover band The Queen Extravaganza singing "Somebody To Love." Glee has done Queen way better than these guys did and remaining band members Roger Taylor and Brian May should just round those kids up in the off season and send them on tour instead.
Now, on to the results.

Jessica Sanchez and Elise Testone are up first. Jimmy thought Jessica's performance of "Bohemian Rhapsody" was "a mistake" but her selection of "Dance With My Father" was clever. For Jimmy, Elise made two bad song choices last night. He called her first performance "clubby" and agreed with Randy that she made too many changes in the second song's musicality. I didn't think Jessica's "Dance With My Father" was a great choice and said as much yesterday. I'll give her credit for picking a song to which she felt an emotional connection, but I wasn't impressed. I hugely disagree with him regarding Elise's performances. I loved both of them and not just because I'm a fan of Elise. She knows what kind of music she wants to make and she's making it now.
Jessica's in the Top Three. Elise is headed back to the bottom.
Stefano's performing "I'm On A Roll" with someone named Ben Jay from the New Boyz. I feel like he's speaking half his lyrics, but then he does the choreography with the back-up dancers and seals the notion that this is just supposed to be some Jersey Shore-inspired club song. I'm sure it'll get some heavy summer rotation before fading off into One-Hit Wondersville.
Hollie Cavanagh and Joshua Ledet are up next. Jimmy wonders if Hollie's choice of "Save Me" was a subliminal message to the public and gave her a B+ for technicality. "The Climb," he thought, was as well as she's capable of doing. Jimmy loved Joshua's performances and said they showed Joshua can cross over into pop. While I didn't love Joshua's first song, I totally agree with Jimmy regarding his second. It was masterful. Hollie, I think, can go no further.
Hollie's in the bottom three. Joshua's in the top.
Katy Perry performs her hit "Part of Me." I'm not even a huge Katy Perry fan, but I can tell you that this is what a performance is. I hope our contestants were taking notes.
Skylar Laine and Phillip Phillips are up last. Skylar, Jimmy thought, gave a solid, confident performance in the first round but called her "self-indulgent" in her second song choice. Phillip is apparently under the weather and Jimmy thinks that hurt his performance of "Fat-Bottomed Girls" yesterday. He went so far as to say that in choosing "The Stone," given the constant comparison to Dave Matthews, Phillip may have hurt his chances of making it to the finale with his song choices. I can see Jimmy's points about Phillip's performances, but I don't think Skylar's song choice was self-indulgent. I think she chose a second song she loved and knew she could do well on. Basically, she played to her strengths. Phillip did the same.
Skylar's in the bottom three. Phillip is safe again.
Skylar's headed back to the couches leaving Hollie and Elise in the bottom two.
It's the end of the road for Elise Testone. I kind of felt it coming yesterday, but man, it sucks. She closes out the night with a reprisal of "Want A Whole Lotta Love" and it's just as good as it was the first time.
What do you think, TV Fanatics? Did America send the right contestant home this week?
Miranda Wicker is a Staff Writer for TV Fanatic. Follow her on Twitter.