"Who's gotta have it?" That's Randy's question regarding the American Idol Top 8. According to the poll results at the end of last night's review, 573 of y'all felt that DeAndre doesn't need whatever "it" is that Randy keeps talking about. But the judges still have a save in play for two more weeks, so if DeAndre finds himself on the chopping block, he could always get another chance.
We're being treated to the video for J.Lo's latest single "Dance Again." Ryan takes the opportunity to ask her whether there was any "special chemistry" between J.Lo and any of the back-up dancers alluding to her romance with Casper Smart. J.Lo plays it coy only saying the song is close to her heart.
The Wanted and former Idol contestant Kellie Pickler are also in the studio to perform, and as usual, we'll hear from Jimmy.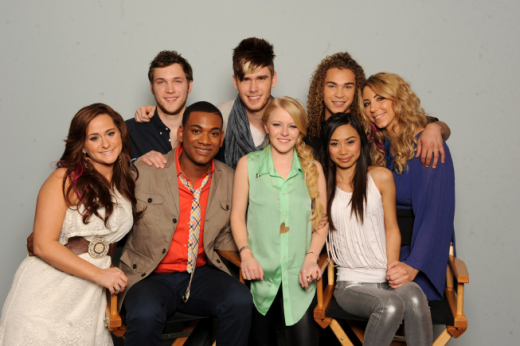 Results tonight will be revealed by last night's duets. Jessica Sanchez and Joshua Ledet, being the last to perform, are up first tonight. Jimmy said Joshua was "over-affected" when he started last night, but looked comfortable and "like a real pro" by the end of his performance. Jimmy thinks Joshua's starting on a hot streak at just the right time. Jimmy said "Jessica did what Jessica does" but that we need bigger and more powerful songs from her and that last night's song choice wasn't her best. Both Joshua and Jessica are powerful forces in this competition, that's for sure. I have not denied and will not deny that.

It comes as no surprise that Joshua's safe. Jessica's safe, too.

The Wanted perform "Glad You Came," and through the beginning I kept imagining that this is the kind of band that someone like Colton would front.  Except this is a boy band so maybe DeAndre should audition to be their sixth member. I think these guys sound better on the radio than they do live and DeAndre's always better in a group number or duet than he is on his own. It's a match made in Heaven.

Skylar Laine and Colton Dixon head to center stage next. Jimmy said Skylar proved that she, too, is a power singer with her performance of "Wind Beneath My Wings." In Jimmy's mind, Skylar went from the bottom of the heap to the top of the mountain last night. Colton, according to Jimmy, was only third or fourth last night. Good, but not great. While I don't know that Skylar's at the very top of Mount Idol, though she's close, I do think she made a smart choice last night. I can't disagree with Jimmy's assessment of Colton's performance at all. Colton was solid last night, but not a stand out.

Before giving out any results, Ryan calls DeAndre Brackensick and Hollie Cavanagh to the floor. Jimmy said Hollie's performance of "What A Feeling" left the audience asking "where's the feeling"? He thinks it could be a battle between Hollie and DeAndre for last place tonight since he completely disagreed with the judges and their take of DeAndre's performance. According to Jimmy, the only way to save DeAndre may be the save. High five to Jimmy! Neither of their performances last night were great and neither of them deserves to be safe tonight.

DeAndre's the first to head to the bottom three. Colton heads to the couches. He's safe. Hollie's headed back to the bottom three and Skylar's safe. That's two out of three so far on last night's predictions.

Kellie Pickler performs "Where's Tammy Wynette." I'm pretty sure Skylar was toe-tapping the whole time, ready to jump up and sing back-up. She's clearly a fan and I think the feeling's mutual for the two country girls.

Elise Testone and Phillip Phillips are the last to learn their fates. Jimmy thought Phillip's song choice last night was safe and that his performance was "good." Phillip, in Jimmy's opinion, may be in danger of the other contestants outshining him if he doesn't move around a bit on the stage. Elise, according to Jimmy, had an "old-fashioned choke" last night after singing her song perfectly in practices. Elise said she was really feeling the song last night and that she let it all out which she agrees probably hurt her as an artist. Phillip said he's just being himself and having fun and he's not here to walk around the stage and touch people's hands. I can't fault Jimmy for his opinions on either of these performances, but I can't fault the contestants, Phillip especially, for being honest with the audience about who they are and why they're here.

Elise is in the bottom three and Phillip is safe. Ryan sends Hollie back to the couches. DeAndre will be singing for the save. Elise is safe for one more week.

DeAndre chooses to sing "Master Blaster" from Stevie Wonder tribute week, which was not his best choice when going for the save but perhaps was his best choice when showing that he's okay with going home and has had fun while this has lasted. J.Lo says he's an amazing performer and that he's going to share a lot of great things with the world, but she's the only one who wanted to save him.

DeAndre Brackensick is headed home. I think it was his time, honestly, and I'm surpised he made it this far. What'd you think?

Miranda Wicker is a Staff Writer for TV Fanatic. Follow her on Twitter.

Tags: American Idol