30 Rock completed a very successful live show last season, which made me believe that Tina Fey and company decided to do another one this year mainly because they felt they were supposed to. I went in thinking that it was going to be a bit forced, but came out thoroughly pleased with "Live From Studio 6H."
You really have to have a good and completely different plan for one of these episodes to actually work. By flashing back to the numerous fake live shows, 30 Rock created both a fun play on the plot, and ample opportunity for the main as well as guest actors to show off their chops.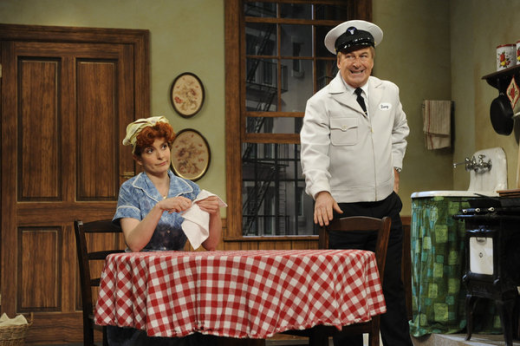 The MVP Award has to go to Alec Baldwin. Whether it was his exaggerated Jackie Gleason, the drunkard Joey Montero, that quick Nixon impression, or his role in the fantastic NBC News duo, Baldwin proved once again why he continues to get asked back to Saturday Night Live, and that he may actually be underutilized on 30 Rock on a regular basis.

The Best Guest was definitely Jon Hamm.  His blatantly racist character Abner was by far the single funniest moment from the episode. I mean between "I's done stoled this catfish!" and "Zip-a-dee-doo-doo," I was on the ground laughing for that entire flashback.

Unsurprisingly, the Best Duo was certainly the NBC News bit where Baldwin and Hamm turned up the sexist meter to about a 13. The only thing that topped Hamm telling the woman reporter to shut up, was when he asked if there was a policeman there who could help.

The Best On The Spot Reference was without a doubt Paul singing "Zou Bisou Bisou" to Jenna before proposing on live television. If you read my review of the Mad Men season premiere, you know how much I loved Megan's performance, and with Hamm on stage, it only made it more appropriate to throw it into this live extravaganza.

The Worst Live Performer was Tina Fey. She was probably too busy making sure everything was goin smoothly to concentrate on her own performance, but she just looked uncomfortable out there. She completely messed up that "Hazel and Jenna" line, her "He's gonna die in there" was very poorly acted, and even her "I want to go to there" was so robotic that it lost all its hilarity.

My final award is for the Best Performance Without a Single Line of Dialogue, and the winner is Fred Armisen. He showed up behind Liz at the very beginning wearing a mustache, but it was his turn as a female telethon volunteer that had me in stitches. Just his presence on screen had Jimmy Fallon cracking up, and Fallon wasn't even looking at the ridiculous face of Armisen behind him.

"Live From Studio 6H" was one of if not the funniest episode of the season, and the concept was also on point. The idea to put many of the main players in the same room so that some could sneak out to do flashbacks was very smart. The idea to make the whole episode about the fact that all of these characters would be nowhere without live television made the whole thing come together perfectly.

30 Rock is now two-for-two on live episodes, so I wholeheartedly request a third installment when next spring rolls around. As long as Tina Fey and company can come up with a decent plot to the half hour, I think it will be another success.

I only watched the east coast feed, so fans please feel free to let us all in on what happened in the second showing of the night. A number of the funniest lines from the night can be found in our 30 Rock quotes section. Check them out and then come back here to let us know what you thought of "Live From Studio 6H" in the comments!

Dan Forcella is a TV Fanatic Staff Writer. Follow him on Twitter.

Tags: 30 Rock, Reviews
Want more 30 Rock?
Sign up for our daily newsletter and receive the latest tv news delivered to your inbox for free!
More From TV Fanatic

This week on The Last Ship, Danny gets sick and the crew begins to panic. Is it the virus? Meanwhile, Rachel's vaccine trials continue to fail.

Who was able to successfully problem solve on The Rachael Ray Show this week? Find out now in our review of Food Network Star.

The Masons are reunited on Falling Skies Season 4 Episode 6. Will it be a happy or contentious reunion?

What took place on The Real Housewives of New Jersey Review this week? Read our rundown to find out!
---