Following a couple weeks off the air, Two and a Half Men returned with an improved episode last night, and it was due to the integration of supporting characters.
In "Palmdale, Ech," both Walden and Alan took back row seats, popping up here and there with terrific timing, but never dominating the action. I'm quite happy that our beloved secondary players stepped into the spotlight here and delivered the kind of comedy to which we've grown accustomed over the years: crude humor, unbelievable outcomes and surprising stupidity.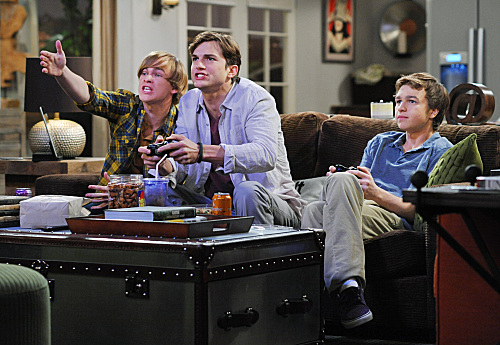 This week was filled with drinking, partying and hooking up. And that's not even all. Let's not forget about creepy old men or Jake and Eldridge app-hunting. Zoe was conveniently   absent, and I didn't mind, as her character was becoming monotonous and annoying. I would have liked some Berta, though.

But Georgia Engel definitely shone tonight. I wasn't a huge fan of her on Everybody Likes Raymond, but she had a good rapport with the cast here, especially with Evelyn, considering that, yes, they hooked up (Ewww, anyone?). Overlooking that odd storyline, though, she did a great job overall as Lyndsey's mother, acting as a carbon copy of Evelyn, which Alan rightly summed up:

They are both disappointed with their children and their grand-children.

Meanwhile, I would totally watch a Jake and Eldridge spinoff. They had me laughing throughout the episode, from arguing about their virginities, to brainstorming for ideas on apps and "consulting" for Walden. Both were great. I really want to see them in upcoming episodes.

So, what do you all think? Do you want to see more of Evelyn, Jake, Berta and Eldridge and less of Zoey? Has this episode restored your faith in the show? Sort through our Two and a Half Men quotes section and sound off now!

Tags: Two and a Half Men, Reviews
Want more Two and a Half Men?
Sign up for our daily newsletter and receive the latest tv news delivered to your inbox for free!
More From TV Fanatic

Scott decides to get tough on Teen Wolf after rescuing his Beta by declaring he won't sit back and watch more deaths. Find out what else went down in the review!

Heather and Tamra consider making peace with Shannon on The Real Housewives of Orange County. See what went down in our TV Fanatic review!

On Murder in the First, the trial of Erich Blunt reaches its conclusion. But what is the verdict? Find out when you read the review.

Andi Dorfman chooses between Nick Viall and Josh Murray. Find out who she chose now on our The Bachelorette review!
---