The Battles may be over, but the war goes on: The Voice will begin its live shows next week. There were pop stars, quirky vocalists or rapping MCs making up the final members of each coach's team. Let's take a look at who were the final hopefuls to get to The Voice Top 24...
Team Cee Lo - James Massone vs. WADE - "True Colors"
The Battle: James was extremely nervous in practice, but it didn't really come through in his performance. If anything, he was way more confident than WADE, who struggled with a couple of critical notes. This was definitely the case of one guy having the potential to be great but failing this week, and the other being steady but probably won't go anywhere in the competition. WADE has much more power and range, but James didn't screw up at all.
My Choice: James
Cee Lo's Choice: James
Battle Grade: B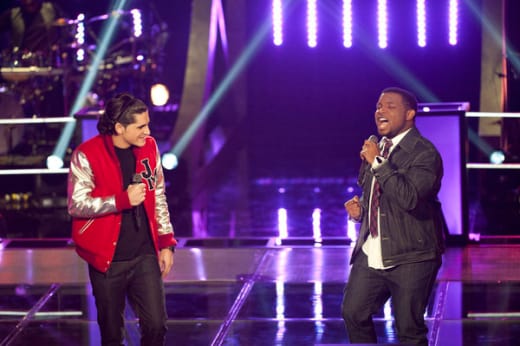 James and WADE battle it out in the final Battle.
Team Adam - Nicolle Galyon vs. Mathai - "Love Song"
The Battle: Nicolle's advantage was her piano playing, and after Adam took that away, she sounded way to plain. Cee Lo called her "generic," and I agree with him. When Mathai first came in it was obvious that she was going to win. She just had the much more interesting tone of the two. I loved that Adam revealed how disappointed he was in the performance, especially since it was his own team members. That's something the X Factor mentors never would have done.
My Choice: Mathai
Adam's Choice: Mathai
Battle Grade: C
Team Xtina - Moses Stone vs. The Line - "Satisfaction"
The Battle: This was such a weird combination, but pairing almost anyone with Moses would have been. I loved that the fact he was a rapper didn't stop Christina from getting him to explore his vocal ability. No star is going to make it in this business by just rapping. He might not have the best voice around, but combine it with his presence on stage and his skills as an MC, and he won me over. The Line is a talented duo, but I'm not sure that is something can even work on a show like this, so I'm not upset that they were eliminated here.
My Choice: Moses
Xtina's Choice: Moses
Battle Grade: A-
Team Adam - Karla Davis vs. Orlando Napier - "Easy"
The Battle: This was a very close call. They both sounded good, but like Xtina said, the whole thing was a bit "lackluster." Orlando has a really nice tone and was very soulful, but he didn't seem to have much range. Karla attempted to show her range, but the falsetto was a little lacking.
My Choice: Orlando
Adam's Choice: Karla
Battle Grade: B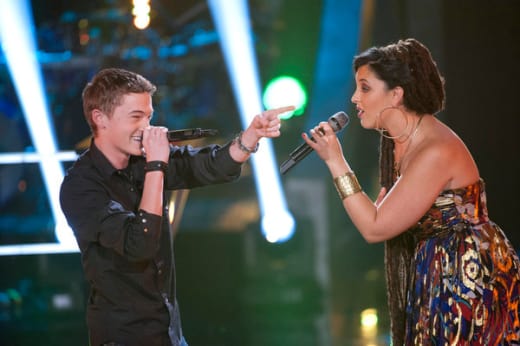 Jordan attempts to sing something that was not in his wheelhouse.
Team Blake - Naia Kete vs. Jordan Rager - "I'm Yours"
The Battle: Blake loves handicapping his contestants, doesn't he? He picked a Jason Mraz song for Jordan Rager. So he was basically telling him he was out right then and there, right? The kid did an okay job with it, at least when he wasn't attempting to harmonize, but this just wasn't fair. That's not to say that Naia capitalized on her advantage, though, because she misfired as well. The song was a perfect choice for her, and she didn't sound all that great. Maybe it was nerves, because I think she can do a lot better.
My Choice: Naia
Blake's Choice: Naia
Battle Grade: D+
Team Cee Lo - Tony Vincent vs. Justin Hopkins - "Faithfully"
The Battle: As I have done a couple of times during these Battle Rounds, I have to ask how this pairing happens. With how bad Cee Lo's team was this season, how do these two talents get forced to take each other on? Tony is sooooo Broadway, but he's a great singer. Justin, on the other hand, seemed like an awesome rocker. They were both great, and the performance on the whole was definitely the best of the night, but only one could move on.  
My Choice: Justin
Cee Lo's Choice: Tony
Battle Grade: A
Who was your favorite contestant of the night? Which performance was the best? Which Coach has the best team heading into the Live Shows? And who will be the winner of the second season of The Voice?
Dan Forcella is a TV Fanatic Staff Writer. Follow him on Twitter.