Despite its serious storyline, tonight's The Mentalist was a lot of fun. "Ruddy Cheeks" had the CBI team investigating the murder of a terminally ill man. The question quickly became: why any one would bother to kill an individual who only had about a month to live?
One of the things I liked the most about this episode was Jane's interaction with Liesl. Where Jane can come off cold and manipulative toward adults, he's much more open with kids and teens. Granted, the girl was a good source of information but Jane obviously had a bond with Liesl from the beginning. Just when Jane's conman ways can become too much, I'm reminded that he lost a child.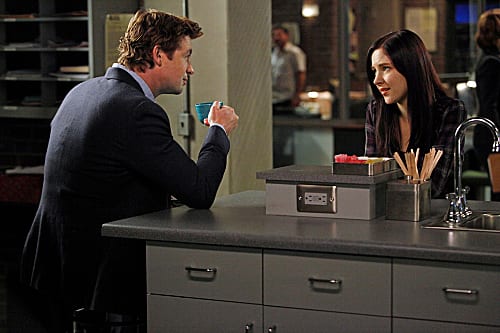 Speaking of children, Wayne looked wildly uncomfortable in the elevator with the crying baby. It worried me that that was an omen of things to come but then his brush with death had him taking a different point of view. His conversation with Grace while looking at the sonogram of his soon to be born child was very touching.
One small issue, though: has this been the quickest pregnancy in TV history? It felt like Sarah only announced her pregnancy a few weeks ago. Oh, wait. She did - and now she's going to have a baby any day. Where has the time gone?
Of course, Wayne's close call only came about because of Cho. I was thrilled to see him and Summer together, but I had hoped she'd step up and get him some help. Since she's siphoning off his pills for her own personal use, that doesn't look like it's going to happen.
Cho came close to asking for help twice. The first time took place when he tried to apologize to Rigsby but Wayne was so happy to be alive that he didn't see it. Then when Cho walked into Lisbon's office, I have to believe his plan was to tell her the truth but he chickened out. 
Kimball Cho believes he can handle this type of thing on his own. The problem is that he's most likely wrong. Addiction is a powerful thing and I'm worried about where he'll end up by the end of the season.
Back to the murder investigation: it was scary to see how many people were looking to take advantage of a man with cancer. Most under the guise of helping him live. The nurse was taking gifts to get people into the drug trial. The kooky medicine man was claiming to harness the power of the sun by using stinky tea. Worst of all, Braddock's new wife pretended to have cancer to get close to him and win the cancer lottery when he died. That's damn cold. Talk about a long-term con.
One of my favorite scenes was when Brother Joseph went to hug Lisbon and Jane. I don't think he could have found two more devout non-huggers if he tried.
I loved how gleeful Lisbon was to charge the wife with fraud. That girl's got a vindictive streak and I believe Patrick Jane appreciates it.
As a matter of fact, Jane and Lisbon had quite the partner vibe throughout the episode. There's a trust and camaraderie between these two that has really grown this season and it's fun to watch, even when the underlying subject matter is as dark as cancer.
My only complaint was that I really wanted more tigers. They're such beautiful animals that I was hoping they'd have more of a role in the story. But who didn't laugh when Jane ran ahead of Lisbon and told her he didn't need to be able to outrun a tiger, he simply had to outrun her. 
What do you think of the Lisbon/Jane vibe? And will Cho's pill popping lead to seriously trouble? Thanks to college basketball we'll have a few weeks until the next new episode, so there's plenty of time to talk about The Mentalist.
C. Orlando is a TV Fanatic Staff Writer. Follow her on Twitter.