Is fighting essential to professional hockey? This is a question many sports enthusiasts often debate.
But is fighting essential to a quality episode of The Good Wife? Oh yes, there's no controversy there, as "Gloves Come Off" so aptly proved.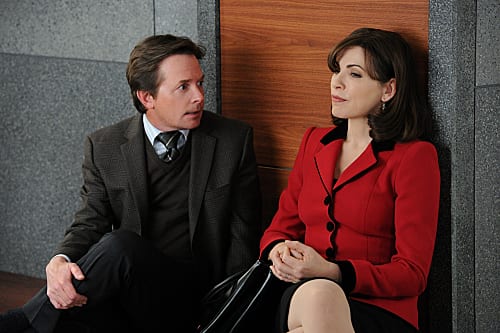 Tension continues to reign inside the offices of Lockhart/Gardner - or should I say Stalin & Associates? - with an equity partner supposedly ratting out Will to the disciplinary board; Alicia leveraging her relationship with Louis Canning into a major bonus; and the return of Tammy causing personal strife for this no-longer-so-good wife.
The latter development was my least favorite part of the episode, seemingly thrown in simply because the show felt a need to remind us about Alicia's love life. I can't say I care that much anymore, partly because the Will/Alicia relationship was poorly handled, but mostly because the professional aspects of the show are just so much more intriguing.
There are times when The Good Wife perfectly combines its two worlds, with professional smoothly spilling over into personal (case in point: "After the Fall"), but this was not one of those times. Tammy's presence really wasn't needed on the episode.
But Michael J. Fox's presence? That of Gary Cole? Even Fred Thompson? Always a pleasure. These guest stars helped flesh out both a relevant case and the fun set-up of Diane juggling two men.
First, the case: Can action between the lines of a sporting event ever be considered criminal? This is a topic for debate these days because the New Orleans Saints took part in a "bounty" program in 2009 that involved payment for players when they injured an opponent so badly that he would be carted off the field. It's also been a legitimate issue within the world of hockey for years.
At first glance, it seems ridiculous. These are violent sports. And they have a set of rules. If those rules are broken, the sport punishes accordingly. But is that always the case? Across the board? No matter what? There do seem to be times when an act so clearly exceeds the boundaries of a sport that the law almost must get involved. If a baseball player charges the mound and uses his bat as a weapon, is that really not an illegal assault just because it took place during a sanctioned game?
That, of course, was not the case here, as the use of one's fists is actually perfectly acceptable in the NHL. (Or in whatever league name the show gave professional hockey, for real-life legal reasons.) But Alicia was right in stating that isn't true in college or in the Olympics. Non-sports fans can tell me whether this case held your attention, but for someone who often has ESPN.com open alongside TV Fanatic, I was riveted.
Elsewhere... you go, Diane! Will's quasi absence has given this partner a chance to step up, and it's been a pleasure to watch her try and take charge of an unruly office. She's completely in control at work, which just makes it all the more fun to watch her loss of control in her personal life. The Diane Lockhart we see setting straight the egos of Julius, David Lee and Eli stands in contrast to the one we see sadly sitting alone with a glass of wine, being stood up by a date... but isn't that the way it often is?
Almost all of us are different people in different circumstances, and it makes sense that Diane would be confident in the law but not nearly as confident in where she stands with the opposite sex. This should be fun to watch play out.
Finally, the episode closes with Kalinda, another personal touch that felt a bit forced; the offer of beer, the overt talking about their friendship.
But at least it does look like this will open up more regarding Kalinda's tax case, which will bring back her FBI pal Lana on next Sunday's episode. What is Kalinda hiding? Will she be truthful about it to Alicia, her new/old friend and also her attorney? And how jarring was it to see Alicia stand up to Diane and for Diane to fight right back, while later supporting her protege?
Indeed, the lines remained nice and grey on The Good Wife this week. Isn't that how we all like them?
Matt Richenthal is the Editor in Chief of TV Fanatic. Follow him on Twitter and on Google+.