Who would have guessed that Will's suspension would be the best thing to happen to season three of The Good Wife?
Just consider all the ways this development had an impact "After the Fall," easily my favorite episode in weeks: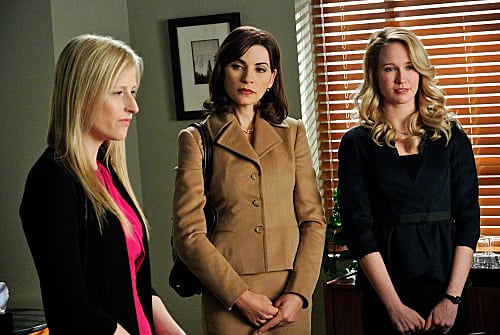 It elevated Alicia who, in turn and by accident, elevated Caitlin. The former has actually played a background role for most of the season, but she was at the forefront of this week's intriguing courtroom battle. Can you really blame a filmmaker for a suicide? It seems like a crazy notion, considering all that tragically goes into pushing one toward this act...
... but shouldn't someone pay when he chooses to encourage a jump (the editing and YouTube advertisement really got me) instead of prevent it?
It was an interesting back-and-forth, helped along by another terrific appearance by Mamie Gummer as Nancy Crozier and a judge whose quirks fit perfectly into the episode, as opposed to distracting from it, which occasionally happens on the show; although my one complaint is that I wish we didn't hear the defendant's 911 call or learn about the father's tuition cut-off.
What would the jury have decided without these two clear pieces of evidence?
It created tension at Lockhart/Gardner. Or Lockhart & Associates I should say. Or maybe Lockhart/Gold? Lockhart/Lee? Lockhart/WhateverJulius'LastNameIs?
The Good Wife is at its best when we see how professionals run their asylum. The law firm is successful - $38 million worth of success, as Will told his pestering siblings - but we all know it's also a pretty big mess. It's endlessly entertaining to watch the inner maneuverings and posturings of Eli, Julius and David Lee, especially when they involve two of these men plotting and the third plopping himself in a chair outside one's office.
Would you care for a magazine while you wait, David? Perhaps a copy of Schemer's Digest?
It pushed Alicia in the direction of Peter. Sort of. Subtly, Alicia felt farther away from Will than ever, calling to check in on her ex, only to overhear him talking to... a new woman? She may have figured as much, resigning their conversation to nothing but work. Did this play a role in her calling off the divorce? Was she simply angry at David Lee for leaking his role in it? Was she actually turned on by the notion of Peter giving the keynote address at the Democratic Nation Convention? It seemed that way when she first heard the possibility.
It's unclear where Alicia's heart or heart is at the moment, but I appreciated the nuanced suggestions this week. Too often, The Good Wife thrusts romance and love triangles in our face. Here, though, the machinations of a political campaign and the shake-up at work came first. Those storylines simply spawned small instances of romantic considerations.
We also witnessed Cary struggle with how he would be affected by Peter's run; learned a bit more about Kalinda's tax case; and met Will's sisters. They were hilarious.
It was a great episode overall, moving many stories forward while giving us a look at characters in various new states - Will at home, Caitlin in court, Alicia on the defensive. Now, if you'll excuse me, I need to think of a name for Will and his sister's singing group. On Gardner maybe? We can do better than that, right?
Matt Richenthal is the Editor in Chief of TV Fanatic. Follow him on Twitter and on Google+.