How does anyone cope with seeing what a cop sees every day. It might be "God's Work" but that doesn't make it any easier to live with and while some of the officers of Southland were treading water, others were drowning.
Cooper was still all torn up over Tang's cover up of last week's shooting.
No, he couldn't prove that she took the orange piece off of that toy gun but he knew it just the same. Knowing he couldn't trust his partner's integrity sent him to his sponsor more than once. Thank goodness it didn't send him to the bottom of an oxy bottle.
He's worked too hard to have someone else's mistake take him down.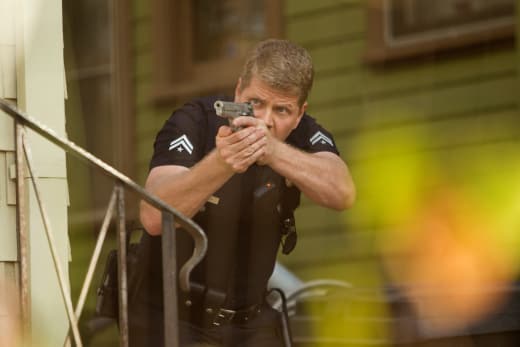 The consequences of what she'd done were obviously weighing on Tang although she seemed to find a way to cope with it. The kid woke up and will survive and Tang even managed to spin the incident in her favor for her interview. Whether she was able to spin it for her conscience was another story.
Tang obviously understood something about the rape victim who shot the man trying to return her keys in a way that Cooper couldn't. She comprehended the terror that lingers after suffering a violent attack. Cooper said that the woman had a million other options other than to fire that gun.
That's true but her fear made her see only one.
Lydia and Ruben's case took some turns that surprised me. First off, the mother seemed much too calm when she found out her nanny was dead and her children were missing. She came off as concerned but not terrified the way any mother should be.
The father seemed so weaselly when they finally found him. Did the nanny really send him those racy photos without any provocation on his part? I sincerely doubt it. I'd love to know what the DNA on her unborn child shows but I suppose we'll never get that answer.
Ruben's belief that any affair that occurred was strictly the nanny's fault for sleeping with a married man was sexist crap, in my opinion. Not that there wasn't plenty of blame for both parties but the husband was the one who took vows to remain faithful, not just to remain faithful unless temptation crossed his path.
And perhaps no affair took place at all, but like I said, I'd be surprised if it didn't.
Lydia's mother was definitely harsh when they finally discussed the baby's daddy. Yeah, Lydia made a lousy decision having an affair with a married man but it's not like she can go back in change it. It might be more helpful if mom were a little less judgmental and a little more supportive.
This is her grandchild we're talking about, no matter who the father is.
I was happy that Sammy finally started cutting Ben some slack. Things were getting back to normal until Ben couldn't cope. Yes, the situation with the pimp, the hooker, and their child was horrifying and infuriating. He did what he could to change it but he didn't know when to let it go and walk away.
Instead he hunted down the pimp and beat the crap out of him. Who knows what could have happened if Sammy hadn't dragged him away.
Ben's rage and lack of control put both him and Sammy at risk and Sammy was right to put him on notice. Ben's coping mechanism which seem to amount to partying and bed hopping aren't working. He needs to get help before he drowns and takes someone near by with him.
So, were you surprised by the baby daddy reveal? Did you think Sammy was right to call out Ben and will Cooper and Tang's relationship ever be the same?
With only two more episodes left, what do you think of this season of Southland?
C. Orlando is a TV Fanatic Staff Writer. Follow her on Twitter.