Secret Circle Producer Previews Return Episode, Asks: Who is John Blackwell?
Matt Richenthal at .
With The Secret Circle finally returning from a lengthy hiatus tomorrow night, I spoke with Executive Producer Andrew Miller on the phone today, as he offered up a preview of what fans can expect from Cassie's relationship with her father, Faye's relationship with Lee and a lot more...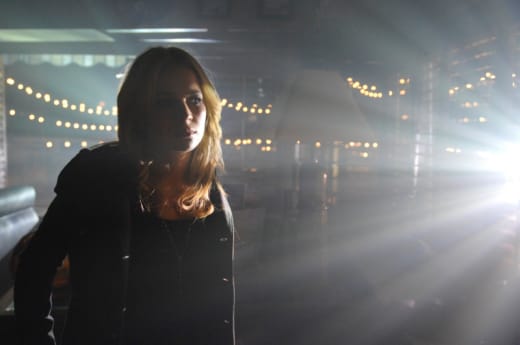 Father Knows Best? "For Cassie, the notion of her father coming back to reach out to her in any way is a dream come true," Miller said. "But she's spent the last 16 episodes hearing what a horrible guy he is. She now has to wonder: Is he for real? Is he on the level? Or is he the Devil in disguise?"
Or Adam Knows Best? "Blackwell's presence gets in the way of Cassie's relationship with Adam," Miller said. "Because Adam doesn't trust this guy. He believes what his own father had to say about Blackwell."
All About Eva: "We've all had to deal with an ex coming back into our life," Miller teased of the issue that will plague Faye and Lee. "But she has to deal with an ex coming back from the dead... it complicates things."
Diana's Dilemma: "She meets this guy with a yacht, who is handsome and speaks with a sexy accent, has a winning smile... and it's kind of a pain in the ass for a girl who has always put the Circle first. She's gonna start exploring how easy or impossible it is to have a relationship with a non-witch."
John Blackwell Versus... "What's really been fun is messing with expectations," Miller said when asked how the older generation will react to Blackwell's reappearance. "Each of the adults we know has a specific idea of who Blackwell is, ideas they've created over the last 16 years when they didn't know he was alive.

"Ethan has the most to lose by Blackwell's return. It has a lot to do with who he was, who he is and the expectations his son has for him. He's gonna be forced to stand up to Blackwell in order to protect Adam."
Matt Richenthal is the Editor in Chief of TV Fanatic. Follow him on Twitter and on Google+.