The Project Runway All Stars needed to create an affordable ready-to-wear look for real women this week. Unfortunately what the show considers affordable is way above my budget and whether real women can wear most of these outfits is debatable.
"Let's Get Down to Business" featured designer and guest judge Nanette Lepore and her coster giving the designers advice on what their sketches will cost in the real world.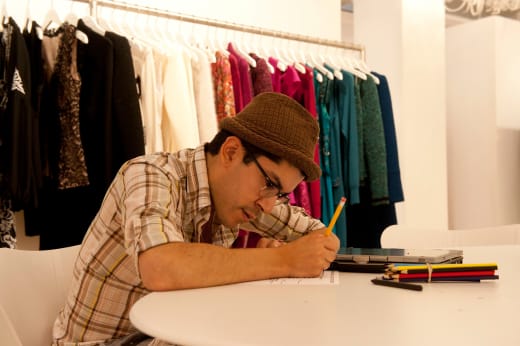 I love that the show thinks most real women have between $300 and $500 to spend on a single outfit. Is that its definition of affordable? Perhaps compared to high fashion, but the vast majority of women I know can't drop that much money on a whim. 
But moving on... it is interesting how the coster can look at a sketch and assess how much fabric and labor will be necessary to produce it. Somehow she even magically comes up with a number for Mondo's sketch, which Nanette admits looks like a tin can with a string.
Kenly can't help snarking about Mondo's lack of sketching abilities but it doesn't seem to be slowing him down any. The final four get busy in the work room and Joanna and Nanette wander through to give their critiques. 
The conversation at Michael's table is reminiscent of last week. Again, he's designed a dress with a plunging neck and back. I love the sexiness of it but the reality is that most real women have to wear a bra and even if he puts in a hook and eye closure that's still going to be awkward. 
Some of Michael's outfits are great but if you aren't a tall, skinny model with no breasts, you simply can't wear them.
We move on to Kenly. I hate that peacock print when I first see it yet somehow Kenly seems to pull it off. Kenly's problems are twofold: First, her seams are never quite right. Second, she can't take criticism or advice. The keyhole cutout in her design is what made it unique. Nanette tells her as much but instead of taking the heads up, Kenly just becomes defensive.
Mondo's multi pattern look doesn't look anything like the tin can he sketched. Thank goodness. And Joanna once again tells Austin he's bordering between hideous and fabulous. Then it's off to the runway we go.
Mondo's mixed print dress gets high marks but it's so boxy that it looks like it's designed for a woman who is pencil thin or has the shape of a 12 year old boy. But I'll say that he pulled off those crazy fabrics making them look young and fun. Angela's right however, in that he should have paired this outfit with sandals instead of heels.
Michael's long print dress is sensual but Nanette says that backless dresses never sell well. Hmm... hence Joanna's point that most women have to wear a bra! The print makes this not so stunning dress a hit but Georgina thinks that Michael hasn't truly found his own point of view yet as a designer.
The seams of Kenly's peacock print throw off the eye. Her print isn't working with her design and Nanette really wanted to see that keyhole cutout. She thinks that's what could have sold this dress.  
Austin's coat is wrinkly but it works. Angela loves the cut and color and Nanette believes it would sell well. Georgina says that Austin is on his own plane as a designer.
And the winner is... Mondo. I thought the boxiness would have cost him but the inspired prints pushed him ahead of Austin.
The judges argue over Kenly's contemporary look versus Michael's designer creation. In the end, it's Kenly's inability to take advice that does her in. She won't be headed to the final runway. I'll admit she's stubborn and a more annoying diva than Austin but I would have liked to have seen what she'd come up with for an entire line. Unfortunately it wasn't meant to be.
And then there were three.
C. Orlando is a TV Fanatic Staff Writer. Follow her on Twitter.