SPOILER ALERT: Stop reading now if you have not yet watched last night's season two finale of Pretty Little Liars.
So... are you satisfied? On this wildly-hyped concluding episode, we learned the identity of A. Sort of.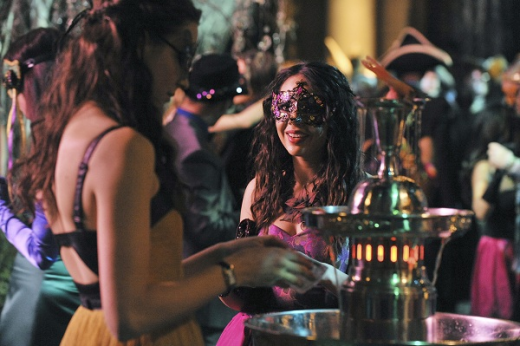 But is Mona really A? Was the reveal a cop-out because now the show will just turn its attention to a new stalker (B?) on season three, which kicks off on June 5? Or a series of stalkers, all members of Team A? Creator Marlene King answered a few pressing questions in a post-finale interview with Entertainment Weekly...
Why Mona? "She really wanted to get Hanna back all to herself. Mona hates Hanna the most because the other three were Allison's friend, but Hanna was her friend. She feels the most personally betrayed by Hanna."
Who else is on Team A? "I don't think anyone should assume anything...  we're going to have the Pretty Little Liars and everyone keep a little bit of radio silence on the tweeting until we come back because we really want people to be surprised with what season 3 of the show is."
Come on. Just a bit of season 3 scoop please? Okay...
Mona will still be around.
We'll meet members of Ezra's family.
The question of whether Alison's death and Maya's death is related will be addressed.
What about the Black Swan? "That's a mystery that's coming back," King says. "Who was that person talking to Jenna and Lucas? And who is the Black Swan?"
Garrett will remain in jail for Allison's murder.
The NAT club will play a key role.
And who was the person in red? "Red is the new black," King simply says.
What did you think of the A reveal? Were you happy with it?

Tags: Pretty Little Liars, Interviews, Spoilers
Want more Pretty Little Liars?
Sign up for our daily newsletter and receive the latest tv news delivered to your inbox for free!
More From TV Fanatic

What did the cast and crew of Arrow Spill on Season 3 at Comic-Con? Find out now!

What can fans expect from Teen Wolf going forward? We spoke to a number of cast members at Comic-Con.

John Barrowman is here to talka bout Arrow Season 3. And to gush over our cameraman.
The cast and crew of Once Upon a Time gathered at Comic-Con and talked up Once Upon a Time Season 4. Some also sang for us.
---