Poor Leslie. Just when you think she's got this election in the bag, here comes Bobby Newport's large purse strings to bring aboard Jennifer Barkley, a brilliant campaign manager who ends up outwitting both Ben and Leslie.
"Campaign Shake-Up" gave Leslie's campaign a much-needed opponent. Because, let's be honest, Bobby isn't going to be one. But Jennifer can drop by and play a very likeable villain, keeping Leslie and Ben on their hilarious toes.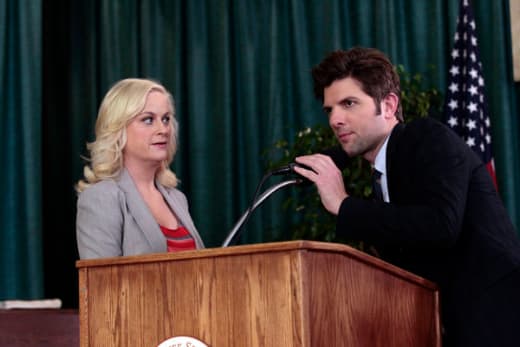 Moreover, she knows all of Leslie's weaknesses, which is mostly her unbridled optimism and naivety. It was great watching Jennifer get so bored with the campaign that she ended up giving Leslie advice so "she could play with herself" and make things a little more interesting.
And yet, even with all of that goodness, it's all the little moments that make Parks and Rec so wonderful. Watching Leslie continually adore Ben and make up odder and odder analogies for him and his (apparently short in stature) body.
The B plot was a great reminder of how great this show is as an ensemble comedy, as everyone tried his/her best to fill Leslie's shoes and with Chris breathing down Ron's neck to get something done in her absence. They all banded together to stay as ineffective as possible. And, although I'm still curious how water fountains fit into the Parks Department when they're outside of a park, the Pawnians (Pawneeans?) are certainly well equipped to fit their entire mouths over the splash guards.
The plot also continued the wonderful world of April being a little bit more responsible and willing to help out her fellow coworkers. Learning that it was all her doing to help get the task done before Chris began hiring for Leslie's temporary replacement was a really nice moment. Ron has always been this surrogate father to most everyone, but it's really touching when he gives and sometimes asks for help from April. It's nice witnessing so much through so little.
All in all, "Campaign" was much improved from last week's stumble, and I'm a little sad that next week is going to be the last Parks episode for a little while.
Other thoughts
With the Buy More out of commission, it looks Fernando from Chuck has transferred to Pawnee.
I'm pretty good with gore and fake bodies, but for some reason the thought of someone putting their entire mouth over the drinking fountain gives me that rolling feeling in my stomach.
Kamikaze water balloon attacks are wonderful.
Brandi Maxx is running against Leslie too. You might remember her as a former guest on Perd's show in Leslie's painting episode.
Carl Reiner is still as awesome as ever. That entire office scene had me in tears.
What did everyone think of tonight's episode? Let us know in the comments and then vote on some of your favorite Parks and Recreation quotes from the episode!