Ben Wyatt is a MILF.
What else is there to say about this week's Parks and Recreation? It wasn't necessarily the strongest episode of the season, and "Lucky" had the unfair distinction of being the final installment for a few weeks before the sitcom comes back on April 19. But at least it will take its rightful place after The Office when it does return.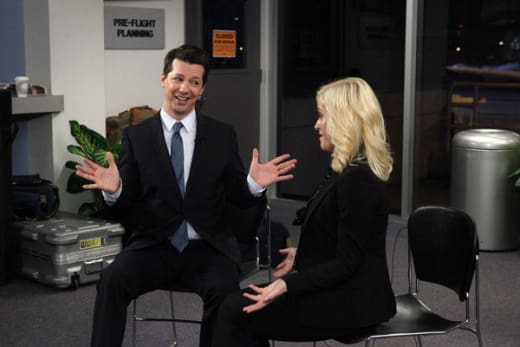 Two things worked well here that usually don't for me: Tom and Ann as a couple, and Chris.
While I still find it hard to believe Tom and Ann are together - since she's moved on and grown up some from her silly boys days - the pairing was slightly more believable this week. Ann and Tom are funny separately and the dynamic they have (had?) now works because it plays to their strengths as characters.
Tom is so focused on being a player that he, knowingly no less, plays that up for Ann to his own detriment. Ann's almost 100% BS free attitude when it comes to Tom also means Tom is going to get cut off at the legs basically every time. Their two clashing personalities made it all worth it on this episode, and explains why their break up time is measured in hours.
Chris is best in small doses for me, and he's also best when paired with people who are the complete opposite of him (which is almost everyone). In this case, April gets the gold star, in terms of comedy and kindess. She's really tried to set up Chris and makes a conscious effort to be nice to him... in her own way of course. Sadly, for April, Ron's greatness was too much for Andy's women's studies professor to resist, and the rest is doughnuts and red shirt history.
Leslie's story, while not the greatest one Parks has ever done, did lead us to the always amazing drunk Ms. Knope. Leslie's complete devotion to Pawnee and its inhabitants seem to have finally paid off as well. Even wasted and getting portrayed in a poor light by Buddy Hayes, Leslie still defended the town, and Pawnee finally returned the favor by finding Buddy's tape and discarding it.
Finally, can we talk about how awesome Donna and Jerry are? Is this the first time they've gotten to do their own thing? Jerry's can-do spirit for stuffing envelopes,complete with the can-do government work of doing it twice, was easily one of the funniest things of the half hour.
Is it April 19 yet?
Other thoughts:
"Limb-itless."
Three steaks and after dinner omelets.
Sadly, no drowning took place in the limo-spa this week, unless we count the woman with no limbs.
What did you think of tonight's episode? Below are some of my favorite quotes from the episode, and be sure to vote on some of your own as well!
Leslie: It's like dealing with a strict mother who I am confusingly attracted to. Ben is like a MILF. | permalink

Ann: Uh oh, I know that look.
Tom: She's got the crazy eyes. | permalink

Jerry: Well, you know it's like I always say 'it ain't government work if you don't have to do it twice.' | permalink