Once Upon a Time celebrated the show's phenomenal success with a panel at the Paley Center in Los Angeles yesterday.
Cast members Jennifer Morrison, Ginnifer Goodwin, Josh Dallas, Lana Parrilla, Robert Carlyle and Raphael Sbarge - along with creators and executive producers Edward Kitsis, Adam Horowitz and Steve Pearlman - took the stage and talked about the show's creation, teased spoilers and proved that curses can be broken.
So how did the top-rated new drama of the season come to be?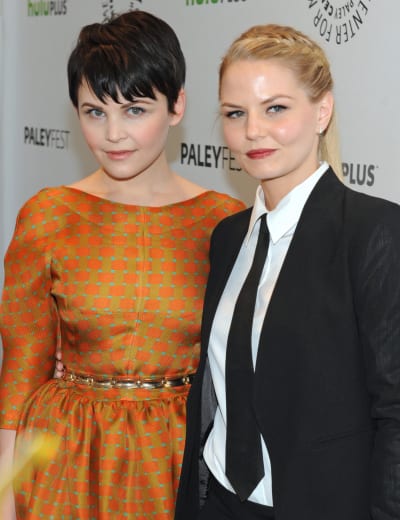 "Everyone on this stage was our first choice," said Kitsis of the drama's good fortune in the casting department, adding that the show may be based on fairy tales, yet "it's not about the stories you've seen but about where they could go."
But what's up with this curse? If true love's kiss can break it, why hasn't David and Mary Margaret's smooching changed anything?
"They can kiss all they want," Kitsis teased. "They're not the savior."
If that honor falls to Emma, though, what if she doesn't believe there's a curse to break? Morrison says her character thinks Henry's story is simply a coping mechanism for a confused little boy... but that could change.
"She's going to start to think that something's up. She's just not sure what," previewed the actress.
Will Kathryn disappearing from Storybrooke pave the way for a David and Mary Margaret reunion? Not exactly, I'm afraid. Josh Dallas said that David feels "guilty and responsible for her disappearance." And even after her vanishing act is resolved, there may be more obstacles ahead for these star crossed lovers. Remember, no one gets a happy ending in Storybrooke.
But that doesn't mean they aren't working towards it. Raphael Sbarge explained that Henry isn't Archie's only patient. Both David and Mr. Gold are about to hit the shrink's couch, as Dallas joked that "David's got problems" and Carlyle added that poor Mr. Gold has no one else to talk to. That's not for a lack of charm on the actor's part, however.
"No offense, but it's kind of hard to be afraid of you as you're lovely and wonderful," Goodwin told her co-star.
Will fans get to know more about August Booth, the new writer in a town that doesn't generally get visitors? The producers promise that before we get to the season finale, "we'll be pretty clear on who he is."
Some fans are still wondering if Graham is truly dead, too. Parrilla said that "It's getting lonely in Storybooke" and Regina misses her boy toy. Unfortunately, the good sheriff is, indeed, dead and gone - and Morrison lamented that she'll miss "kissing one of the hottest men on the planet" but at least there's this:
"He may have had his heart ripped out in Storybrooke, but he's still very much alive in fairy tale land," Kitsis said.
Speaking of which, one fan thanked Dallas for moving her 12-year old granddaughter's crush to him and away from Justin Beiber. See. Curses really can be broken.
Other teases from the panel included:
Barbara Hershey will arrive on episode 18 as the Evil Queen's mother, Cora.
Regina will have one line in that episode about her background that will make fans "realize she has a very interesting connection to a certain somebody in our world," Kitsis said.
Might Kristin Bauer return as Maleficent? "I think it'd be disappointing if we never saw her again," said Kitsis.
The show is hoping for a Little Mermaid episode on season two.
C. Orlando is a TV Fanatic Staff Writer. Follow her on Twitter.