Now THAT was what every Fringe episode should be like. "Nothing As It Seems" was head-scratching, question-inducing fun!
Revisiting an old case that ended differently was something I originally expected to take place between the two universes. While it was a bit disheartening it didn't happen with the doppelgangers and we had to wait for Peter to disappear and reappear, it was rewarding nonetheless.
Add to the case the mystery of Olivia's changing personality and Peter's opening feelings toward everyone after his realization he wouldn't be investing his time unwisely, and it was a solid hour of programming.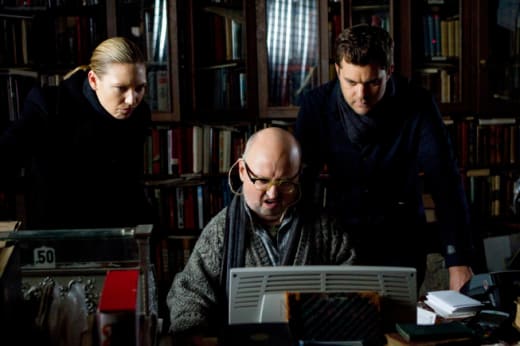 Since Olivia was, in effect, losing herself, the FBI didn't believe she was fit for duty as she wasn't the same person they licensed. Did anyone else find that odd? I mean, at least they knew her and the knowledge she had already panned out. Peter came back from nothing and was allowed to ride along on cases with less information than their own agent. Like she said, they do work for Fringe Division, so weird was a matter of degree. But if they hadn't sidelined her, it wouldn't have given Lincoln a chance to rise up as he did.
I knew Peter's advice to Lincoln about Olivia would come back to bite him in the ass. The two of them handled the awkwardness with maturity, despite Lincoln's obvious disappointment. The woman he was falling for was disappearing before his eyes. I don't know if that would make it easier or more difficult for him to watch her and Peter together. With Lincoln infected with the porcupine virus, he let Olivia work the case even though she wasn't sanctioned. He didn't have to do that, but everything he knew about Peter, and now about Olivia, gave him the faith to trust them.
Through Peter and Olivia working cases together with Olivia as her former self, they were able to work in an old friend, Ed Markham, the used bookstore owner who helped them a on a lot of cases. He was integral to finding The First People, which was determined to be written by one of my favorite characters, Sam Weiss. How long until he makes a comeback? Soon, please! The possibilities their renewed partnership opened up are endless and very exciting.
Lincoln proved himself to be an undeniable and indispensable member of the Fringe team. Frankly, it's difficult to remember the team without him. Even providing something as simple as being a worthy chess opponent for Walter sets him apart from the rest. Seth Gable was great in the role and he had a lot of fun with the part as Lincoln was inducted into the "I've been infected" club. He was able to say a lot with the tiniest facial tic. I loved that.
Finally, I thought it was a very creative way to treat the old case by fleshing out how it would have happened if the plane hadn't crashed. Olivia was right about how crazy were those people had to be to sign up to be mutated into those creatures. On the boat at the end, was that an indication that they didn't know what kind of creature they were signing up to become, and if it wasn't the intended creation they were caged and shipped around the world for eternity? Seemed like a hell of a risk for people whose lives looked well above average.
Other things to love:
The look on Walter's face when Peter hugged him
The look on Lincoln's face when he realized Olivia didn't remember their old conversations
The look on Lincoln's face as he was drinking the human fat and wheat grass concoction
That Olivia called Broyles so Lincoln wouldn't have to
Broyles' speech to Olivia about a 60% Olivia still being better than 90% of all the agents he's ever worked with
One thing I'm not sure about is where Walter stands in all of this. He clearly loves seeing Peter and Olivia together and knows something is up with them. Was his ripping open Peter's old birthday gifts his admission that he had "his" Peter back? With Walter, it really can be that subtle and easy.
In the Fringe Round Table this week, it was thought he could either just easily go with it, or completely deny it. I sincerely hope it was a gentle catharsis for him to lose the painful years without his son and just accept him back by sharing those gifts. No more pain for our Walter!
Carissa Pavlica is the managing editor and a staff writer for TV Fanatic. She's a member of the Broadcast Television Journalists Association (BTJA), enjoys mentoring writers, wine, and passionately discussing the nuances of television. Follow her on Twitter and email her here at TV Fanatic.