Desperate Housewives Review: And Baby Makes... Trouble
by Christina Tran at .
Now, that's what I'm talking about. That was seriously one heck of a Desperate Housewives episode.
With baby drama, creepy and psychotic Orson, Ben's scary loan shark, some answers to our dozens of questions and more, what was there not to love?!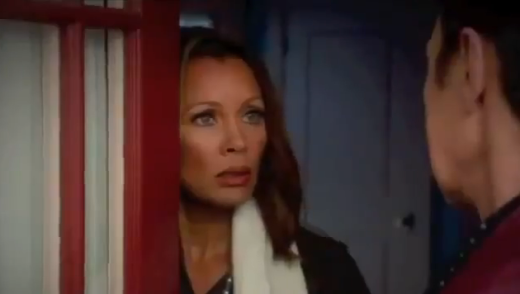 Oh, wait… I can think of one situation I didn't care too much for: Susan's relentless willingness to want to play such a vital role in her

daughter's

child's life. Sure, I understood that Susan just wants to be a grandmother and hopes that Julie will come around to wanting to be a part of her daughter's life, but you'd think Susan would try a little harder to understand what Julie wants.

I couldn't help wondering why Susan was trying so hard with Porter when she hardly tried to smooth things out with Julie. Also, I can't imagine that Julie would ever want to visit again after giving up her child only to see her baby at her own mother's home. After everything that was said between Susan and Julie recently, I really wanted to see Susan fully support her daughter regardless if she disagreed.

With soon-to-be grandmas Susan and Lynette bickering away, I laughed every time Porter was so convincingly clueless. I also loved the paralleled scenes with Tom talking to Susan and then Mike talking to Lynette, both trying to remind them of what was really important among all of the baby drama.

Meanwhile, I wholeheartedly agreed when Roy asked Gaby if she ever thought of anyone but herself. Then again, I was so glad that Gaby went against Mrs. McCluskey's wishes and told Roy about her cancer. Both Mrs. McCluskey and Roy are so darn sweet.

By the way, how heartbreaking was that scene with Roy telling Gaby never to take a loved one for granted? I couldn't help but tear up, too.

Elsewhere: Renee was learning the meaning behind "no good deed goes unpunished." Ben's loan shark didn't care if Renee had already settled Ben's debt. He wanted more money and made it clear that he was willing to do whatever it took to get it. I really wished that Mike hadn't confronted that jerk, and am now worried for both Renee and Mike.

Finally, I've buried the lead and saved the best for last: Orson, the man with a plan, actually confessed to Bree about writing the mysterious letters and killing Chuck. He even tried to explain he did everything he could to protect Bree and was willing to do anything to keep her all to himself. Did you catch all of the news clippings and pictures he had? What a psycho!  

I appreciated that the writers finally gave us the answers we have been waiting for nearly all season long. Thanks to Orson's anonymous envelope sent to the Fairview police, there will be nothing but destruction left behind. I have no idea how much information Orson sent, but I'm betting it's enough for the police to start questioning Bree about Chuck's death.

I laughed some, shed a tear or two, and even gasped several times. Now there are only six remaining installments leading up to the two-hour series finale in May. Let's hope that the remaining episodes follow suit and are just as spectacular as "She Needs Me."

So, what did you think, TV Fanatics? What exactly do you think Orson sent the Fairview police? Who won't make it to the series finale?  

Tags: Desperate Housewives, Reviews
From Around the Web