Bones returns Monday to begin its spring run ... one that will end poetically and perhaps controversially.
The season finale of Bones will involve the return of hacker and serial killer Christopher Pellant (Andrew Leeds) ... as well as a closing sequence that's already causing much debate in the writers' room.
Creator and show-runner Hart Hanson's tweet last week revealed the tension: "Our first conversation about the final image of Bones Season 7 morphed into a spirited debate. It ain't gonna go easy…"
What does that even mean? Of the episode, "The Past in the Present," Hanson elaborates to "We're all happy with the story, and we're all happy with the cliffhanger we have."
"What we're actually debating is literally the last image that we leave our audience with."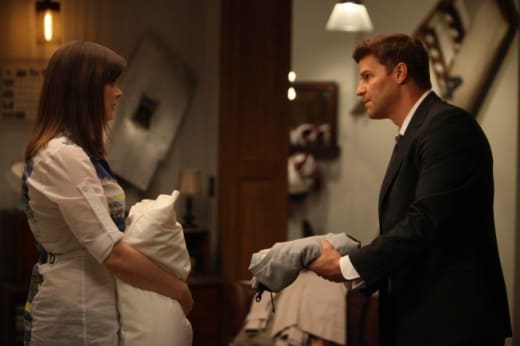 "We have options as to how it motors us into Season 8. There's a see-saw between hope and confidence and vulnerability and fear that we have to walk. We're searching for that last poetic image."
"That's what we will argue about up until the day we shoot the scene - and I'll bet you that we'll still be arguing about it as we're putting music on the final shot in the editing room."
Hanson and Nathan admit to being incredibly vague - even more so than the Bones brain trust usually is - saying "we really don't want to tell anybody anything." So, let the speculation begin?
Several theories being thrown around online, here and beyond:
The cliffhanger is a marriage proposal ... by Brennan
The cliffhanger is a marriage proposal ... by Booth
Pellant's return leaves the entire team in peril
Another character dear to us loses his/her life
Share your Bones comments with us below ...
Steve Marsi is the Managing Editor of TV Fanatic. Follow him on Google+ or email him here.