The Voice was extremely refreshing when it debuted a year ago. It was a new twist on the singing show genre, which at that point had grown extremely stale thanks to the same old same old from American Idol and America's Got Talent.
After skipping Talent again this summer, suffering through the Idol copy cat that was The X Factor this fall, and then snoozing through the Idol auditions for a few weeks now, The Voice once again reinvigorated my enjoyment of singing competitions with a stellar start to the second season.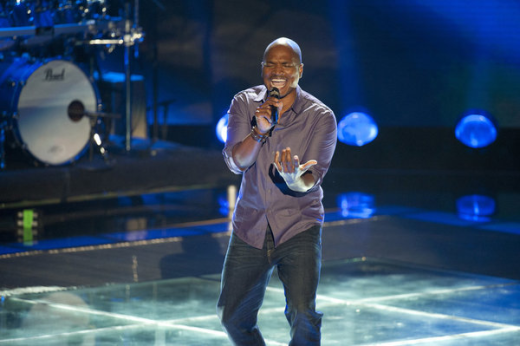 It all starts with how great and sort of revolutionary the blind auditions are. The coaches facing away from the contestants, them having to make that decision on whether they want the singer on their team, and then the performer actually getting to choose which coach he wants to help him/her win the title... it all adds up to an entertaining hour of television, something that is very difficult to say about the audition rounds of any other singing show on television.
It also helps that the coaches are all charming and completely comfortable in front of the camera, and that everyone singing in the blind auditions can at least carry a tune.
Adam Levine, Blake Shelton, Cee Lo Green, and Christina Aguilera were all interesting in their own right last season, and each brought some entertainment to the second season premiere. Unlike the forced banter between Simon and L.A. Reid on The X Factor, and whatever Simon and his faux love/hate relationship with Paula were about on Idol, the jabs that Adam, Blake and the others take at each other feel completely authentic.
These coaches want to win this thing in the same way that me and my buddies want to win our free fantasy football league every year. It's a pride thing, and that doesn't need to be forced at all. You could tell by the fact that Adam has already mentioned his championship from a year ago three times in the first hour that these recording stars are all-in.
Oh yeah, it's not all about the coaches. It's the singers that go on to win The Voice, and like I said earlier, it is great not to have to endure awful performances. All of these contestants are known in one circle or another for being great. Even those that don't make it through the Blind Auditions have some talent...probably more than half the finalists on The X Factor.
After the first night of auditions, Blake, Cee Lo, and Adam have one team-member, while Christina already has two. Last year each coach had eight singers. Will it be the same this time around? Will those who didn't get chosen in the first round get to come back at the end like a year ago?
------------------------------
Let's take a look at how the Blind Auditions went by looking at the teams in the competition...
Team Blake
RaeLynn was the first audition we witnessed, and she came out catering to Blake Shelton.  She's a country girl singing Blake's wife's song, "Hell on Heels."  We all could have guessed where this was heading.  Adam and Blake both turned around and she obviously chose Blake.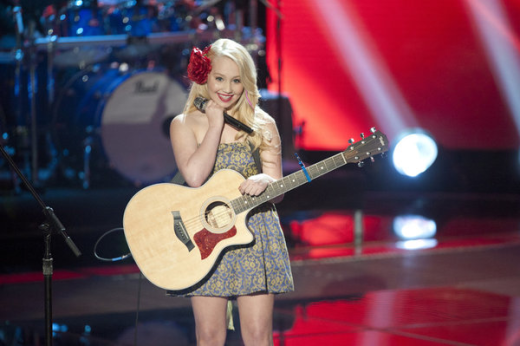 Team Christina
First there was Jesse Campbell, who was my favorite of the night. He's 42 and at one point was homeless, so he has a heart breaking story to go along with his wonderful singing voice.  His "A Song For You" was extremely good and got all four judges to turn around. I thought he would go for Cee Lo, but decided to choose Cristina even though she made that almost racist comment about Cee Lo and Jesse being the same color.

Later in the episode Christina also picked up Chris Mann, a slick suit wearing opera singer. That was certainly a surprise when he started belting out that Italian, right?  Cee Lo and Christina both turned around, and Blake hilariously claimed he didn't turn around because he "couldn't understand one word." In the end, Chris chose Xtina and cried a bit about the whole thing.

Team Cee Lo
Gritty rocker Juliet Simms didn't get any coach to turn around immediately, but as soon as the rasp in her voice started to shine, both Adam and Cee Lo turned around.  Christina also turned, but at the very last second, making it almost impossible to pick her.  Why would a contestant ever choose a coach that waited that long to turn around?  Juliet surprisingly picked Cee Lo over Adam, who I thought would have been a perfect fit for her.

Team Adam
Finally Adam picked up his first team member on the last audition of the night.  Tony Lucca, who was a Mousketeer with Christina many, many years ago, got up there and told the coaches they'd be in "Trouble" if they didn't turn around. Thankfully all four of them did for this 35 year old silky smooth singer.  He chose Adam, which was probably the right call for him.

If I were Tony, I definitely wouldn't have chosen Christina after she didn't recognize him at all from their Mickey Mouse Club days. I'm not saying she should have remembered him - and that trip back stage only happened because someone clued her in on what was going on - but I would have felt a tiny bit disrespected if I were him.

*Update: Upon finding out that Tony Lucca did the version of "Devil Town" that was heard on Friday Night Lights, he is now my favorite on the show. Listen here.

------------------------------

We also saw four contestants that didn't get chosen by any coach. Daniel Rosa was the only one who got an entire audition on screen, while Gonul Aksoy, Ben Baxter, and Mark Trussell merely got snippets of their respective performances. Maybe they will be back if the coaches don't fill out their teams by the end again.

Overall, it was an excellent start to the second season of The Voice, and I can't wait to see how it all shakes out. Who was your favorite audition of the night? And who is your favorite judge? Sound off in the comments, check out the shots of the other successful blind auditions at our The Voice pictures page - and don't forget to tune again Monday night for the second episode of The Voice.

Dan Forcella is a TV Fanatic Staff Writer. Follow him on Twitter.

Tags: The Voice, Reviews