That was fun. After four weeks, five episodes and nine hours, The Voice has completed its season two Blind Auditions, and it was certainly a pleasant change from the bore fest that has become of other singing competitions.
Each coach rounded out his/her respective team, but Blake Shelton did it with the most style this week. Whether it was a joke about murdering Christina, or one about wanting Adam Levine in a sexual way, the country star had me laughing out loud on a number of occasions.
Check out our The Voice quotes page for all of Blake and the others' quips from the Blind Auditions.
Now let's take a look at the four teams, and who they added in the final round. We will start with the defending champion, who also had the best success rate when hitting his button this season.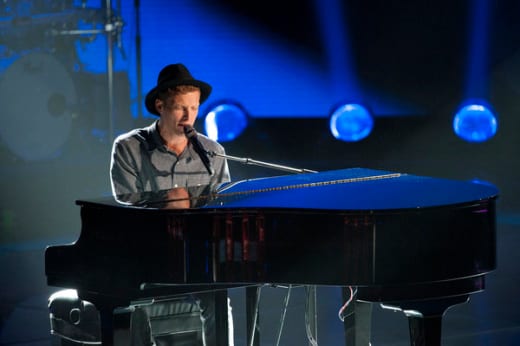 If only Orlando Napier loses the hat, he could go places.
Team Adam
12 contestants on 20 turn arounds = 60%.
Current Members: Tony Lucca, Kim Yarbrough, Angel Taylor, Pip, Katrina Parker, Chris Cauley, Nathan Parrett, Mathai, Nicolle Galyon, Karla Davis.
New Additions
Whitney Myer from Reno performed "No One" and was able to get all four of the coaches to turn around. I didn't think it was one of the better performances of the season, but I really enjoyed how excited she got as they all began turning their chairs around. She eventually chose Adam after he spent some extra time wooing her. Christina also made a last ditch attempt to pick up Whitney, which was when I noticed that even Xtina - the least articulate of the four - makes some really good points. That's not something other singing shows can say.
Like Adam, I enjoyed Orlando Napier from the moment he began. I didn't like his hat, but that is beside the point. His singing during "Waiting on the World to Change" was so soulful, and his piano playing was probably even better. He has a winning combination, so I was really surprised that Adam was the only coach to turn around.
Team Xtina
12 contestants on 21 turn arounds = 57%.
Current Members: Jesse Campbell, Chris Mann, The Line, Lindsey Pavao, Geoff McBride, Moses Stone, Jonathas, Monique Benabou, Ashley De La Rosa, Anthony Evans.
New Additions
I give Christina a ton of credit for picking a good mix of talent on this year's squad. Lee Koch only adds to that diversity, as his very Rod Stewart-esque version of "Like a Rolling Stone" reminded me very much of Paul McDonald from American Idol. As a fan of Paul's, this was right up my alley, and the fact that he's a professional baker and played the harmonica didn't hurt his quirky cause either.
Christina was the last one without 12 team members, so she passed on a bunch of contestants before settling on Sara Hill. Her "I'm Going Down" was good, but I certainly didn't enjoy it as much as Xtina, who just had to get on stage to perform with her newest mentee. Maybe Christina just wanted to put on a show since the auditions were finally over.
Team Blake
12 contestants on 23 turn arounds = 52%.
Current Members: RaeLynn, Gwen Sebastian, Jermaine Paul, Erin Willett, Jordis Unga, Brian Fuente, Naia Kete, Charlotte Sometimes, Jordan Rager, ALyX.
New Additions
Blake turned around AFTER Cee Lo and Adam during Lex Land's rendition of "I Can't Make You Love Me," but his orgasm jokes really won her over. I definitely agreed with Christina, who said that it felt like the whole things was going to give out. The other coaches said she seemed nervous, but to me it just sounded like a weak performance. I don't see Lex making it past the Battle Rounds. 
Adley Stump gave Blake another country singer. Did he want one that only started singing 10 months ago? Maybe. Maybe not. Her "Last Name" was no Carrie Underwood, but it was good. Both Christina and Blake turned around at the very end of the song, which is ironic, because Adley couldn't really hit the end not of any line in the song. Her beginnings were great, but she had issues with the ends.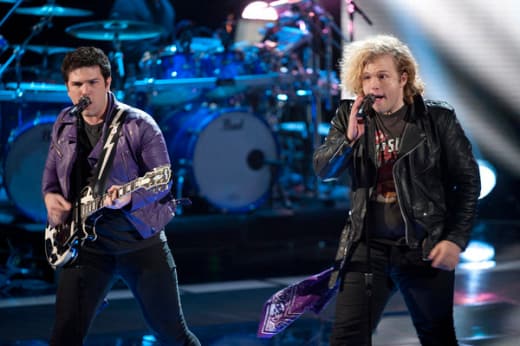 That Shields Brother's hair needs to go, right?
Team Cee Lo
12 contestants on 30 turn arounds = 40%.
Current Members: Juliet Simms, Jamar Rogers, Angie Johnson, Sarah Golden, Erin Martin, James Massone, Tony Vincent, Justin Hopkins, Jamie Lono.
New Additions
First of all, Cee Lo's 40% success rate is pretty pitiful. Secondly, this is still anybody's game. Maybe Purrrrfect the cat will end up winning the Battle Rounds and competing in the live shows. You never know. For the time being, he was left with The Shields Brothers, Cheesa, and WADE. The latter was my favorite of the three, as the young R&B singer showed promise in all facets of singing during "Rehab," and should prove to be a good fit for Cee Lo.
The rocker brothers, on the other hand, just started screaming like crazy people with their "Dancing With Myself." Also, someone needs to tell them that they don't need to give the rocker symbol 24/7. They aren't James Durben. Cheesa, who had some great moments once the song got going, struggled with the lower register moments of "If I Were a Boy." I really liked her overall style though, so she could surprise people in the next round.
--------------------------
There weren't a lot of failed auditions to be sad about this week. David Dunn's "The Man Who Can't Be Moved" was forgettable, 64-year old Preston Shannon is already a legend in Memphis, and Cameron Novack made me throw up a little bit in my mouth with his free styling.  
What about you TV Fanatics? Who was your favorite from the final night of the Blind Auditions? Will any of them stack up to the bests from the past few weeks?
What about the coaches? Did you do a spit take when Blake told Christina he was going to drown her? Which team do you think has the best chance of winning the whole thing?
Dan Forcella is a TV Fanatic Staff Writer. Follow him on Twitter.