The Office Review: I'm Not Bored. I'm A Pirate.

Dan Forcella at .
"Tallahassee" had all the pieces to come together as one of the best Office episodes of the season, but the driving force behind it - Dwight's battle to become the Special Projects Vice President while dealing with a big of appendicitis - was not funny.
They were able to play humor off of Dwight's pain - like him continuously thinking he was poisoned thanks to the return of pranking Jim or leaving a message to his infant son telling him to kill Mose in order to keep the beet farm to himself - but much of the back half of the episode was Dwight's struggle between pain and drive... and it was kind of boring.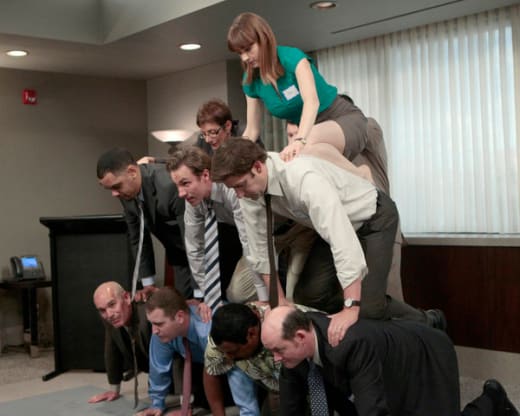 What wasn't boring, though, was that cold open. How great were Dwight's wake-up calls? Screaming in Pam's Replacement's ear, suffocating Stanley and having Erin seduce Ryan were all great, but the best was the fact that Jim was ready for Dwight with a prank.
This was an old school, well thought it, motivated Jim prank. He ransacked the room, left a briefcase full of money, got fake blood to spell out "It was Dwight," and fell out of the closet like a corpse. Classic Jim. I love this Jim.
Do you know which other Jim I love? I love the one that aspires to be like Stanley. Seeing the normally stuffy Stanley wearing Hawaiian shirts, smoking cigars and driving a convertible was hilarious enough, but Jim wanting to be more like that just made it that much better. 
It wasn't a huge return for Catherine Tate as Nellie Bertram, President of Special Projects, but I'm a sucker for that British accent so it worked for what it was. We were also treated to the return of Todd Packer, who also seemingly didn't do much positively or negatively.
While Dwight suffered in agony, Jim admired Stanley's attitude, and Erin reminded us that Ryan Howard is the coolest, the rest of the crew was back in Scranton per usual.
But it wasn't as usual as you might think. With Erin gone, somebody had to take over at reception, and unsurprisingly that person was Andy Bernard! This was definitely not Ed Helms' worst day on the job. Coincidentally, Andy's abilities as a receptionist coincided well with Helms' ability to be enjoyable while playing the role of manager-turned-receptionist.
There weren't many laughs from the Pennsylvania side of the story, but it wasn't annoying either, which is always a good sign when Andy Bernard is the center of attention.
What about you? What was your favorite part about "Tallahassee?" Did you enjoy the return of Tate and David Koechner? Relive some of the best moments with the quotes below, and then head over to our The Office quotes page.
Dwight: It's just stress, 'cause I care about this project. Frankly, the fact that none of you are vomiting or diarrheal right now, I find very alarming.
Erin: Who says none of us are diarrheal? | permalink
Stanley: Life is short. Drive fast. Leave a sexy corpse. That's one of my mottos. | permalink
Dwight: I'm a decent baiter. My cousin Mose, that's a master baiter. | permalink
Stanley: It's just rum. I'm not bored, I'm a pirate. | permalink
Erin: Ryan switched his name tag to his pants, so now it's like if you wear yours on your shirt you're a total dip, but if you switch you're a copy cat. | permalink
Dan Forcella is a TV Fanatic Staff Writer. Follow him on Twitter.