The eighth season of The Office has had a difficult time telling funny stories. The humoursly awkward moments we used to get from Steve Carrell have turned into boring awkward moments with Ed Helms.
Thankfully, the show has survived on a few hilarious characters - notably Kevin and Dwight - garnering laughs simply based on their hilarious personalities.
That was no different in "Jury Duty," as Kevin was on fire with his disturbing accounting family tree, calling the baby fat and "Little Kevin," and buying the kid Call of Duty.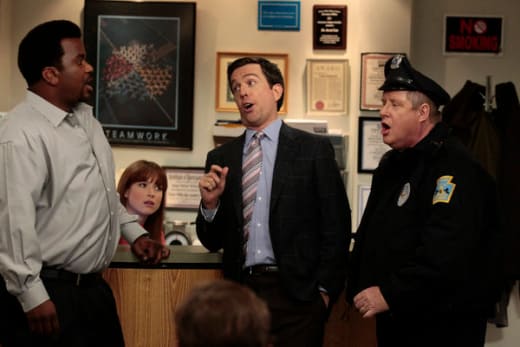 While Kevin rarely has much more than a few lines of dialogue per episode, Dwight continues to be a leading player... until he possibly spins off his own series next year.
The beet farmer was in rare form once again this week, both in how he dealt with Jim's unexcused absence from work and the news that Angela's baby was conceived one month before her wedding with the Senator.
In both instances Dwight was insanely happy. First with Jim, he couldn't wait to take his rival down, reading him the Dwight's Rights, bringing in Ernesto from the food truck, and packing up his things as he prepared for Andy to fire him. It was a cruel happiness.
Then upon, hearing the news about Angela's baby, he showed utter joy in the fact that he had a child.  I've never seen someone take to being a father as quickly as Mr. Schrute. Let's just hope, for the sake of Dwight's paternal happiness, that nobody ever did teach Mose sex.
Dwight's joy was fun to watch, and it was certainly more entertaining than Jim's pain. Honestly, I don't know who was in more pain throughout the episode: Jim for having to endure all the lies he told, the burden he put on his co-workers, and the crying babies - or us for having to watch all of it.
Stanley being upset that he had to watch "damn Rizzoli and damn Isles," on the other hand, was hilarious. There were a few other one-offs that made up for the less than funny time we spent with Jim and Andy this week, most notably Randy's awful translation skills, Gabe's love of maternity wards and Oscar not knowing which thread to follow in the baby scandal.
With the recent news of Rainn Wilson taking Dwight away from The Office for a spinoff, we have to begin to analyze how that will happen. Becoming a father is as good of a reason as any for a major life change. Will this help him move on from Dunder Mifflin? Only time will tell.
There were definitely some ups and some downs in "Jury Duty." What did you think of the episode? What was the funniest moment? And what was the better baby gift: Preemie Pajamas? Or Call of Duty? 
Check out our favorite lines of the night below, and don't forget to hit up our The Office quotes page for all the best one-liners.
Erin: Angela had the baby?
Kevin: Is it black? Because that would be hilarious. | permalink
Oscar: Please don't say anything offensive.
Kevin: Got that bimbo?
Erin: Got it bimbo. | permalink
Dwight: You have the right to remain silent. You have the right to beg for mercy. You have the right to request judgment by combat. Dwight's rights. | permalink
Dwight: He remembers Toby, the most forgettable man in the known world. | permalink
Dwight: That baby is a Schrute, and unless somebody taught Mose sex, that baby is mine. | permalink
Dan Forcella is a TV Fanatic Staff Writer. Follow him on Twitter.