At the conclusion of the Smash series premiere, Megan Hilty and Katharine McPhee - as Ivy Lynn and Karen Cartwright, respectively - sing to the writers and director of Marilyn The Musical, "Let me be your star."
This serves as the same message Smash is giving to NBC - or, really, that NBC is bestowing upon Smash - as rarely has a network placed so much stick on one series.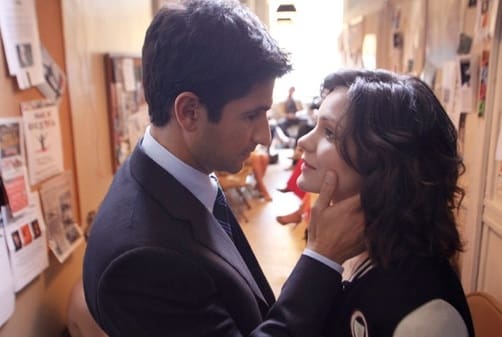 But past failures must be ignored for a moment. For, in this case, the Peacock has chosen wisely.
I discussed the premiere at length in MY ADVANCED REVIEW, but allow me to briefly sing (pun... intended!) its praises again here:
This was my favorite pilot of the 2011-2012 season. In 43 minutes, Smash took us behind the scenes of the Broadway musical world; introduced us to a variety of layered characters; established back stories and feuds between many of them; and set up a rivalry unlike any on television, one between two aspiring stage stars, battling for their first big role.
I loved the use of music, the original songs, the toggling between simpler audition numbers and those same productions on a grander scale. Great production all around and great performances, too.
I've already seen the next three episodes and there's no letdown in any of the pacing, dialogue or overall mature, intelligent way Smash approaches a universe that no other series has ever dared touch. So let's band together, give this opening night a standing ovation and embrace NBC's new star.
What did you think of the Smash premiere? Grade it now:
Matt Richenthal is the Editor in Chief of TV Fanatic. Follow him on Twitter and on Google+.