"Perception" is said to be more important than reality. What could be perceived from tonight's episode was that Emily's plot for Revenge has spun out of control.
When did Nolan become Jiminy Cricket? Nolan once again played the role of Emily's conscience and I hate it when that happens. Nolan's so much more fun when he's Emily's partner in crime. He was a bit dull as he lamented the plight of the mere mortals that were affected by Emily's schemes.
Did he have a point? Of course. There's been plenty of collateral damage along the way. But I prefer Nolan when he's smirking about Em being a bad girl as she sets houses on fire. He's ever so entertaining when he's plotting with his plan instead of trying to hold her back, even if it is for her own good.
A broken hearted Jack. But Nolan was feeling badly for newfound friend Jack. The guy had just gotten beaten up and lost the girl. What's a friend to do? Well, Nolan got him a big screen TV to watch either porn or Judge Judy. His choice.  We should all have someone like Nolan in our lives.
Unfortunately, softhearted Nolan took matters into his own hands and let Jack see that tape and that was when things began to spiral out of control.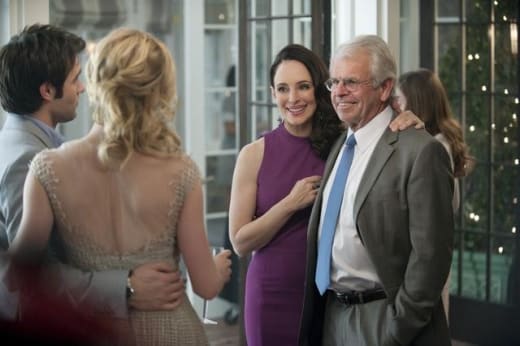 Grandpa Grayson. I've been a fan of William Devane since he was on Knots Landing way back when, so I was thrilled to see him appear on Revenge. Grandpa Grayson was instantly a force to be reckoned with. He's powerful, charasmatic, has a way with the ladies and loves daughter-in-law Victoria... much to Conrad's chagrin.
When Victoria's affair and Charlotte's parentage was outed, the family patriarch came down hard on Conrad. Apparently the old man still held enough power to oust Conrad from Grayson Global and replace him with Daniel. But Conrad's not about to go down without a fight.
Back much too soon. Just when you thought we'd finally kicked Amanda to the curb... she's here again and more trouble than ever. Dragging Amanda back into this was a dangerous move. She's unpredictable, borderline psychotic and in love with Jack. 
It also sounded like she was done playing the role of Amanda. What happens when she decides to take back her true identity? The Hamptons isn't big enough for two Emily Thornes.
Side Notes:
Was it just me or was Declan not annoying this week?  I'm tempted to say he was almost cute.
Conrad proved himself an ass once again by both insulting and leering at Ashlee all in one breath.
Once again, the ladies' wardrobes were beautiful, but Victoria was particularly stunning in the white dress with the red details. 
Will we see more of Amanda next week and what is her plan for Emily's box of secrets? More importantly, who shoots Daniel and will he survive? Oh, yes, viewers, it's off the infamous engagement party next Wednesday night.
C. Orlando is a TV Fanatic Staff Writer. Follow her on Twitter.