The Project Runway All Stars had to convince total strangers in Central Park to give them their outfits this week.
I can only imagine all of the editing that went into this episode. I'm sure many New Yorkers aren't very friendly with their refusals when some stranger asks for the "Clothes Off Your Back"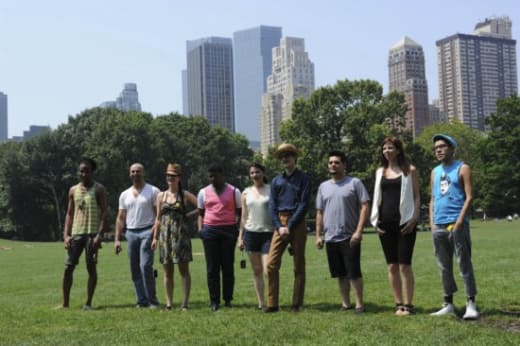 Anthony thinks he's got the edge because you need a personality to get someone to disrobe for you. To prove it, he gets some guy to take his shorts off, which leaves him hanging out in his underwear in the middle of the park. No dressing room necessary.
Of course, Austin's the one who runs over and gets his phone number. It's all about multi-tasking and no one says you can't pick up a date while you're searching for your muse.
With whatever funds they have left, the designers are allowed to go shopping at Mood - but 50% of their total outfit must be made from the clothes they picked up on the street.
Kara ends up three dollars short and I'm happy to see the other designers kick in what they have left. They may get catty sometimes but overall this group are good sports.
Back at the work room, the scrambling begins. Austin's inspiration is this cool punk rock chick. It's the last thing I'd guess he would pick. Mondo goes with a sort of psychedelic striped summer dress. Jerell chose an African inspired print but it's hard to tell what the heck he's doing with it.
Did Joanna Coles make an appearance? Yes, I believe she did but it was so boring I hardly even noticed. How I long to hear Tim Gunn say make it work.
Michael gripes that Kara has Kenly help her with her pants. Not sure what the Project Runway rules say about that, but the show doesn't stop it so maybe it's not an issue.
The guest judge this week is Sean Avery. He's a player for the National Hockey League and he interned at Vogue. How often do you see that?
The Top 3:
Rami - They love the shorts of this professional summer look. Isaac likes that he focused on the tailoring but Sean thinks the hat looks forced.
Mondo - Angela loves the whole outfit. Georgina thinks all the detail is divine and Isaac likes that it's bare but controlled but then he laments that it's almost too stylish. What on earth does that mean?
Austin - Georgina says the designer punk rock look is sweet but has a toughness to it. Sean thinks it's too much and Isaac deems it out of control but fabulous.
The Bottom 3:
Michael - Angela thinks It looks more like a swimsuit than a shorts set. Isaac complains that the top needs more structure. Sean thinks it would have gone better with a jacket and the model just looks uncomfortable. Maybe he should have kept the doily looking sleeves instead of going strapless.
Jerell - Isaac says it looks like a costume that just walked off of the stage at The Lion King and showing that much stomach is the opposite of sexy. But Georgina thinks it's exciting.
Anthony - Georgina loves the jumpsuit but did he use 50% of the fabric from the streets? Isaac thinks Anthony got lazy. The shirt he got as inspiration is only used to make a purse.
It's funny how all three of the ladies are all safe. Who saw that coming?
The winner is Mondo. He finally comes out on top, but you knew it would happen eventually.
Anthony's going home. He didn't use his muse as inspiration and didn't use enough street fabric. But he'll always have cute shoes. This is one of the more fun contestants and I wish he hadn't dropped the ball on this one. I'll miss him.
Next week, it's a fashion face-off - or, as they say on Project Runway, the wrestling match of fashion.
C. Orlando is a TV Fanatic Staff Writer. Follow her on Twitter.