Parks and Recreation Review: Not So Super Sweet Sixteen
Nick McHatton at .
It was bound to happen sooner or later to Parks, but "Sweet Sixteen" failed almost as much as Leslie's party planning this week.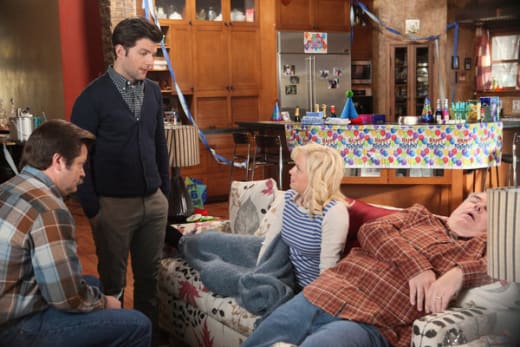 There just wasn't a whole lot here to get excited for. Leslie's campaign has been a fun plot device and a great way to further her dreams and goals, and yes, of course, the two of them are going to come to a head eventually. Leslie being overextended wasn't the problem, though. The problem was that the stories lacked any real comedy.
It breaks my heart a little bit to type that, but it's the truth. "Sweet Sixteen" couldn't even Jerry this one.
Ron's complete amusement as Leslie was going absolutely crazy trying to handle all of her tasks was the peak of the half hour. As was his talk to her at the end. I love Leslie and Ron time. Watching Ron tease her and be serious (no half-assing, only whole-assing) with her is always great.
The side stories were lacking this week, however. Ann and Tom continue to push the boundaries of my patience, from both sides. Of all of the things for the two of them to do together, why does it always end up with Ann eventually caving in to some aspect of Tom's craziness after she cuts him off at the knees for doing almost identically stupid things prior? Why is there a rehash of the same thing every week? At least they agreed that their arguments were stupid.
Amazingly, Chris and Andy were the only plot thread that was enjoyable. Chris' enthusiasm is the perfect companion to a three-legged dog and a foil to Andy's personality. Only Chris would feel the need to groom, train and exercise Champion into the best dog he could be over the course of one night.
The dog whistle behind Andy's back was great, too.The small moments of dry humor from Chris work best for me, especially when there's some sweetness behind his actions.
Other thoughts:
I nearly forgot about Jerry, but let's be honest, I'm not alone. Even his wife ignores him on this birthday. Poor guy.
Now we know if Leslie wins the election it will only be a part-time job. Which means she won't have to make a choice between politics and Parks.
A total lack of Ben tonight.
Lollipopping.
What did you think of the episode? Leave us a comment and then vote on some of our favorite Parks and Recreation quotes!