"Remember Me, I'm the One Who Loves You" was full of typical Braverman emotional overkill. Too much love, caring and forgiveness for any family, sprinkled with what could amount to a healthy dose of heartache and disappointment. The kicker was we were left dangling in the breeze until next week!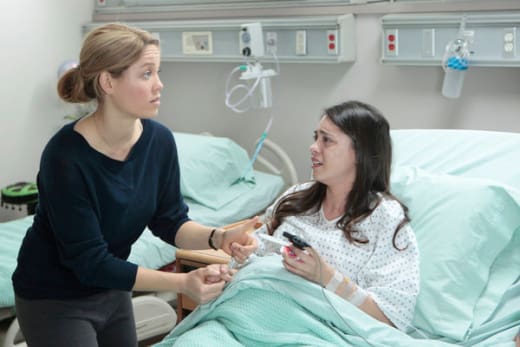 Sarah and Amber
I loved it when Sarah wanted to know if Bob was married because she didn't understand the problem of why Kristina stepped into things with Amber and Bob. I knew I wasn't the only one who thought that Kristina was out of line in jumping into a situation that hadn't even happened. Sarah was right. They were both adults, unmarried. If things shouldn't happen at work, Amber would learn that lesson as she needed to learn it. Or, maybe she and Bob would have something.
Poor Amber was just confused as Hell. She wanted to go back to work, but you could also tell she didn't want to let Kristina down by feeling something for Bob Little. For the time being, she had to make due with climbing under the covers with her mom.
Sarah and Mark
I'm still not sure what is happening here. My decision is that both Sarah and Mark are living out some sort of fantasy through each other. First, they want to have a baby and then he proposes moving to New York City so she can write plays? Well, yeah, because that's what every new mother does. It's like they're grasping at every dream they've ever had, but never in a million years would it work out.
Adam and Crosby
Speaking of a million... If the number on the card to buy The Luncheonette from Crosby and Adam had been $2 million, I would have jumped. But when we're talking only $1 million clear, split between two people, that barely pays off their mortgages. If after only a few months, major names are sniffing around and trying to buy your business, you are onto something BIG. Hold the line, work through the rough patch and see what happens in the next year.
Let's ignore the fact that Adam should have never been talked into a second meeting without Crosby. I was trying so hard to see what the dude was writing as his counter offer, but it still looked like a 1 to me, and if he offered $10 million, there isn't a chance in Hades they could turn that down. It didn't matter the number. Adam basically made the deal without Crosby, via a simple handshake over some drinks. Adam is going to be very happy Crosby went camping.
Crosby and Jasmine
If all it was going to take was a simple camping trip with Jabbar for our star-crossed lovers to realize they were still mad for each other, they should have gone last year! It was a cute and fun break, a nice family moment for Crosby, Jasmine and Jabbar.
I'm very glad that Jasmine made the move because Crosby wouldn't have put her in the position again to let her down. She knows what she's in for and she is all in. They're solid gold. And, frankly, might very well be, depending upon how much Adam settled for on the sale of The Luncheonette.
Julia and Zoe
Am I the only one whose heart grew three sizes when Zoe told Julia she loved her during her labor? For her to then turn her head after delivering and say she didn't want to hold her baby - those two opposing moments were so emotional and painful. I know I wasn't alone when I was scared to death watching the Grahams walk into the hospital lobby. At first I thought maybe Zoe left, but then I thought Julia overreacted seeing Zoe holding her son.
At the beginning of the season, I felt the most likely of scenarios was Zoe would become a part of the Graham family. I have to believe this will be the case. The pain as Julia cried over the loss of her son was astounding. I don't know how many more shows I can watch with both of my hands on my cheeks and a big O mouth, greedily sucking in air like a lunatic. After all they have been through together, surely there will have to be a happy ending for them all, as a large, extended and embracing family. Right? Tell me I'm right.
We're down to one episode this season. I can't wait until next Tuesday because I have to know what happens next. Meet me back here, and in the meantime, share your guesses for the finale below!
Carissa Pavlica is the managing editor and a staff writer and critic for TV Fanatic. She's a member of the Critic's Choice Association, enjoys mentoring writers, cats, and passionately discussing the nuances of television and film. Follow her on Twitter and email her here at TV Fanatic.