Kensi is virtually indestructible. We've known that she is tough, but nothing like what she went through after being shot by the sniper.
Until now, Kensi's past has been almost as big a secret as Callen and Sam's have been. We knew her father was a military man and she was curious about his death. She finally got the answers she has so desperately been searching for.
"Blye, K. (Part II)" started right where last Tuesday left off with Kensi getting shot by a sniper. Thankfully, she was wearing a vest and the bullet hit her in the side. Despite her pain, she was more determined than ever to find out the truth.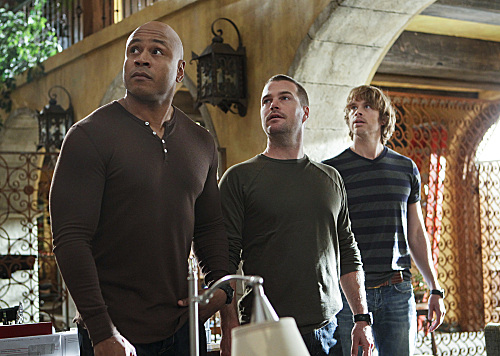 How amazing was her take down of the guy in the truck?!? A woman on a mission can do anything! That's a fight scene I could watch over and over again. Kensi had several impressive one-on-one battles in her quest for the truth.

Until the very end, I expected we would find out that her father was actually still alive. With the introduction of Kensi's mother, I'm glad the writers didn't go down that path. Her father died trying to correct a wrong and protect an innocent reporter; it served a purpose.

The conspiracy surrounding all the deaths was a little difficult to follow, but in the end it all made sense. Clairemont was protecting himself from a story about a killing he did in Haiti. He used his military sniper team to take out the reporter. A huge violation of the military code and a betrayal of his team.

Kensi's father tried to protect the reporter and for that he was killed. When Kensei started snooping around his death, Clairemont took out any remaining witnesses. Such a shame! In the end, Clairemont caused his own death by pulling out a gun. It was perfect that Granger was the one who killed him. It brought the story of the sniper team full circle.

The mystery, the fights and the intrigue were nothing compared to the heartfelt moments that we got to see from Kensi. She has been a tough cookie, who has until now kept her emotions private. I'm not sure which was my favorite: her talk with Deeks, her reunion with her mother or her time of the beach with her father's notes.

They were each precious in their own way. I've never been a fan of Deeks and Kensi getting romantically involved, but their partnership is deeper than that of co-workers. They trust each other in a way that many romantic partners could only dream about having. When Deeks said That's my girl, my heart may have softened to a relationship between them, but only for a moment.

Will Kensi's reunion with her mother break the shell she has had around her all these years? Kensi's isolation was slowly suffocating her as we saw during the holiday episodes. Presumably, she will learn the truth now about her mother and Kensi will get the unconditional love of her mother back.

I'm haven't been a fan of Granger, but I softened to him a little when he gave Kensi her father's sniper journal. Kensi learned the truth about her father's death, but his letters to her provided the closure that she needed. He loved her; she was always on his mind. Kensi was loved.

When we next see Kensi, I hope that she comes back a changed woman. It would be disingenuous for her to come out of this ordeal the same person and agent she was before.

And ... it looks like Granger isn't going anywhere. Will he be more tolerable now? I'm not sure.

Carla Day is a staff writer for TV Fanatic. Follow her on Twitter and on Google+.

Tags: NCIS: Los Angeles, Reviews
Want more NCIS: Los Angeles?
Sign up for our daily newsletter and receive the latest tv news delivered to your inbox for free!
More From TV Fanatic

This week on The Last Ship, Danny gets sick and the crew begins to panic. Is it the virus? Meanwhile, Rachel's vaccine trials continue to fail.

Who was able to successfully problem solve on The Rachael Ray Show this week? Find out now in our review of Food Network Star.

The Masons are reunited on Falling Skies Season 4 Episode 6. Will it be a happy or contentious reunion?

What took place on The Real Housewives of New Jersey Review this week? Read our rundown to find out!
---