Moment of honesty, guys: I was expecting Mike & Molly to do a pretty standard Valentine's Day episode. You know, girl says she doesn't want to do anything special, guy doesn't make any plans, then has to figure something out at the last minute, and hijinks ensue.
At first, it looked like that was the way "Valentine's Piggybank" was going to play out, but Mike & Molly delivered a nice surprise in the form of a not-so-standard story.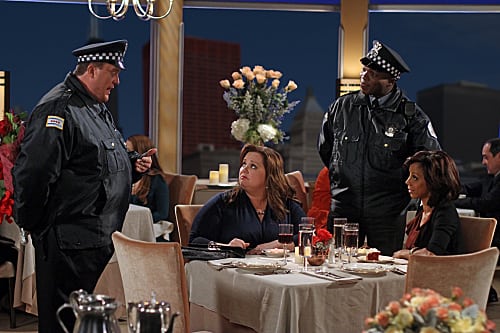 Carl and Mike spend most of the episode bickering like a married couple. If you check out the quotes page, you'll see what I mean. In spite of this, Mike & Molly doesn't forget that, in life, friends are just as important as spouses. Just when I thought the episode was headed towards a predictable end, Carl and Mike are reminded of how much they value their friendship when they try to stop a man from jumping to his death.
I definitely didn't see this coming, and it was great to see the two policemen have each other's backs not only for salvaging last minute Valentine's Day plans, but also in life or death situations.
I'm glad the jumper pointed out how awful Mike and Carl's negotiation tactics were because I was definitely thinking it.   
While we often see Carl and Mike interact, we don't usually get to see Molly and Christina share the small screen. When the guys are late to the hastily-arranged Valentine's double date due to their work emergency, Christina and Molly end up spending Valentine's Day together. It reminded me of Leslie Knope's "Galentine's Day" from Parks and Recreation. Molly doesn't often hang out with female friends, so opening up and laughing with Christina felt like the night out that she needed. Also, Molly's note to the violinist to learn to play "The Devil Went Down To Georgia" was a nice bit of spice to offset the sweet scene. 
I was expecting to see more of the consequences of Joyce's surprise decision in last week's episode, but once it was revealed that Joyce and Vince were getting racy boudoir shots done, I'm really happy we didn't see anymore of them! Although, it would be hilarious if a mug with their naked picture on it popped up later on. Or, at the very least, Vince dressed up as that angel. Make a mental note, Mike & Molly. Make it happen. 
While I would have loved a Valentine's Day episode all about Victoria, it makes sense that the show focuses on Mike and Molly since they are the romantic center of the series. Yet I'm increasingly starting to think that Victoria is the real heart of the show. She's sassy and wild, but surprisingly accepting and sweet. I want to learn more about her and hope that the writers continue to develop her character. 
What did you guys think of Mike & Molly's second take on Valentine's Day?