"Lekio:" Radio.
This is officially my favorite episode this season. While I was sad that Lori has left the show, I can say that Tony Archer (James Caan) turned my frown upside down and made me laugh so much that by the end the episode I was saying: Lori who?!?
I'm not afraid to admit that I've had a little man-crush on Caan since the first season of Las Vegas. He and Josh Duhamel are what made the show survive when so many other programs about Vegas were failing at the time. As much as I've enjoyed the bromance and carugments between Scott Caan and Alex O'Loughlin, having Caan Senior in the mix just made it that much funnier. When he pointed out their "hen pecking" and offered to be their marriage counselor I was cheering.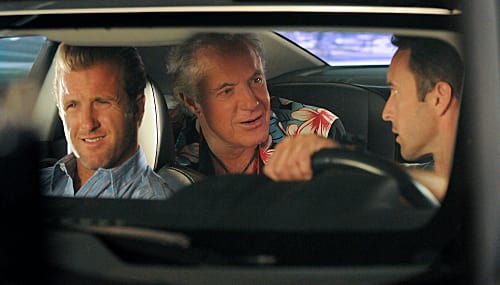 Did anyone else expect some sort of nod to Scott and James being related? I really thought we would get some sort of inside joke, but that wasn't the case. What we did get was Tony giving us some of the best quotes so far this season. 
CBS, please tell me you have the elder Caan lined up to make return visits. Not only was he humorous, but he really brought characters back down to earth; their behavior and actions seemed believable for a change. Speaking of believable...
Did you notice not one suspect took off running this week? All the way to the end when they arrested Todd I just knew someone was going to run. I was wrong. Now, before you mention Dumb and Dumber who took Raines' body (that is how they were listed in the credits), keep in mind that they were already running before Five-0 confronted them. So they don't count.
I also took note that they explained why Raines and Archer we're not Hawaiian, that they had moved there from New York. Why couldn't they have done that with Frye earlier this season? Was it really so hard? I hope nobody pulled a finger writing that. 
Finally, I'm willing to let the fact that Dennis Miller was only in the episode for three minutes slide given how much they used James Caan. If I had to pick between the two, I'm taking Tony Archer over Bobby Raines every time and twice on Mondays. Here's hoping we see Tony again real soon. 
Jim G. is a TV Fanatic Staff Writer. Follow him on Twitter.