"Kupale:" Defender.
After the departure of Lori last week, fans got reminded here of what Danny and Steve do best: The Bromance!
There were more bromantic banter in this episode than there has been this entire season. Starting from the first moment when Steve came home; to the numerous car scenes; all the way to discussing Gaby and Grace at the restaurant; there was almost too much, if that's even possible.
'Speaking of Steve coming home, why do they insist on making Danny a bad house guest? I'm pretty sure Danny would never have put a dog in Steve's room. At most Steve was only gone for two weeks for his yearly reserve duty; is it even possible for Danny to trash Steve's house that much in that time period if he had tried even a little to keep it clean? 
My wife pointed out that in all the places they have shown Danny stay on his own, he has never been a slob, yet this week Steve walked into a kitchen fire, clothes were everywhere and a dog was in his bed. Really???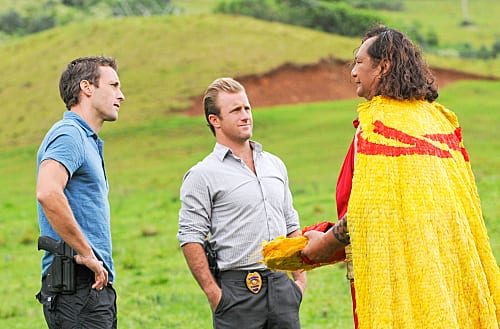 That frustrating mystery aside, the rest of the episode between Danny and Steve was great. We haven't gotten this much bonding time since last season. I especially enjoyed Danny checking with everyone to make sure they were coming to dinner. While I suspected this was a setup for Gaby to meet Grace, it was still very sweet the way they were out making a butterfly in the sand. 
Sadly, my enjoyment ended with the bromance. First, the case was clichéd - how many times have we seen the "business partner killed the victim over making more money" story? (Okay, it being a boat business was new.) Second, they again used a well-known actor to play the murderer. This time, they got Patrick Fabian to play Tony, the business partner. Fabian plays a jerk so often that the moment they showed him on screen, both my wife and I tagged him as the culprit. 
Then, you had the well-publicized guest appearance of Apolo Ohno. While I'm thrilled they finally had someone who was Hawaiian to guest star on the show, he barely rated five minutes of screen time. That's barely longer than the commercial that mentioned him. I thought we were past the over-hyped-under-used guest stars bit. 
Lastly, we had our "chase of the week" in the form of Kevin Creed on a motorcycle with the "running out of road towards water" trope. Have I mention there were clichés in this episode? With the incredible setting of Hawaii, you would think they could find a better ending to a chase than bumping the motorcycle off the dock into the water. 
In conclusion, for all of us that have been missing the bromance, I'm thrilled they gave us a super-sized "catch up" dose this week. My only request is that it get tempered with some original story ideas too? I promise we won't jump ship if you break out of the mold. Just look at how much we loved last week!
Jim G. is a TV Fanatic Staff Writer. Follow him on Twitter.