A possible fatality. A name change. The outing of multiple secrets and a phone call to Zoe's father.

Oh, yes, Hart of Dixie sure gave fans plenty to consider with "Tributes & Triangles," the show's final new episode until April 9.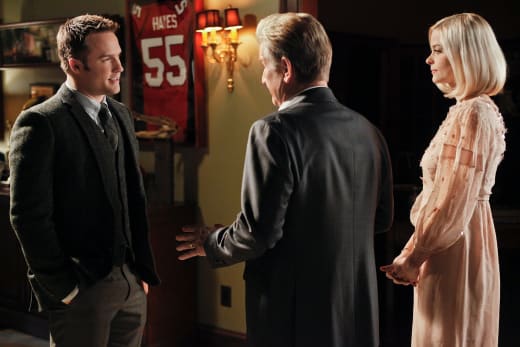 Forget Man of the Year. This was easily the Episode of the Year, at least as far as drama is concerned.
For those who sometimes complain that little actually takes place in Bluebell aside from sarcastic remarks and a few rather trite storylines that are typically wrapped up within the hour (cough... cough... yours truly... cough... cough...), this installment proved otherwise.
We were treated to major movement on the George and Zoe front, though I expect that to create some serious backlash among Team Wade members. And for good reason. What happened to that 2011 finale? Where Zoe accepted that George was with Lemon and strongly hinted that she's see what could happen between her and Wade?
It would be fine if the show explored that in some way, or gave us any indication that Zoe just couldn't fight her feelings for George. But have we really seen any of that? Over the last few weeks, Zoe and Wade simply continued to bicker like always, while we've scarcely spent any time with her and George. Her heartfelt speech about Bluebell's best lawyer sort of came out of nowhere here, didn't it?
But at least it's progress. Significant progress, at that, and connected to the intriguing development of Zoe's father coming down to operate on George's father. Kudos to the series for tying things together well in that regard. It has at least been consistent in showing that George and Zoe can talk about important life issues, such as family, while George and Lemon... they mostly just talk about whatever southern tradition she's worried about each week.
Is that enough to sell Wade fans on George? You tell me. The former does seem to have a lot more personality than the former, as his song attempts with Magnolia may have come across as random, but they still made me chuckle.
So Hart of Dixie now takes a long break with many questions in the air: Will George's dad survive? What kind of effect will Zoe's dad have on his daughter? Will George and Lemon still go through with their wedding? Will Wade just walk around with his shirt off to show Zoe what she's missing?
And will a petition be passed around to pressure Zoe into changing her name to Zoe Bon Jovi? Because, let's face it, that would be awesome.
What did everything else think of this episode and its most pressing development? Are you on board with George and Zoe? Or are you wondering why Wade was never given a chance?
Matt Richenthal is the Editor in Chief of TV Fanatic. Follow him on Twitter and on Google+.