Gossip Girl Photos: A Day at the Dairport
Steve Marsi at .
Gossip Girl's 101st episode features Blair on the run after this week's "G.G." wedding fiasco. What can we expect from a princess bride on the lam? A whole lot of scenes with her trusty, dutiful partner in crime, Dan.
Dan whisks Blair off to the airport, as you can see in the image below, following their getaway from her royal reception. Will he confess his romantic feelings for her or simply continue to be her best friend and protector?
Either way, "The Backup Dan" will be interesting to watch: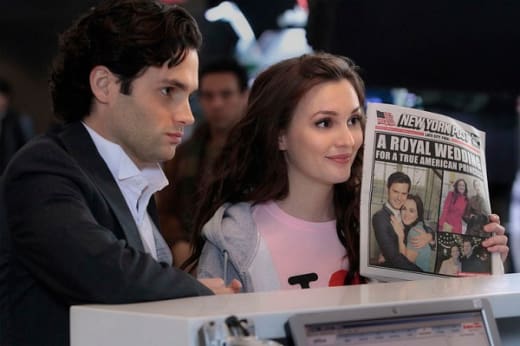 Executive producer Josh Safran told TV Line that this on-location shoot "was a really complicated, but super fun, big, great set piece" that yields "some of the best comedy we've ever done. [It's] very funny."
What is their destination? Who knows. They're clearly winging it as they go.
Blair's rocking an I Heart NY t-shirt (we love the look on her), so she apparently thought the wedding dress was a bit conspicuous. This episode definitely has the potential for laughs, romance and drama.
Chuck and Georgina are still in the mix, as well, as we know from previously-released pictures. Check out the promo and complete gallery of Gossip Girl photos from "The Backup Dan", then comment below:
Steve Marsi is the Managing Editor of TV Fanatic. Follow him on Google+ or email him here.