Well, well, well. What have we here - an episode of unison, perhaps?
This week on Gossip Girl, some matches were more predictable than others; some for family, some for curiosity, one for conspiratorial purposes, and another ... well, Nate gets his own category after five seasons of whoredom.
Through the painstaking bewilderment of Blair, the return of scorned, scheming Chuck, and the sadness of the Rhodes ladies, and the epic reveal of Charlie (finally!), somehow we survived, no thanks to that Brooklyn performance.
That chartreuse scarf though, Chuck, was a nice touch. You are nothing if not consistent, Bass. Let's get down to business and break down the many style hits and misses from "Cross Rhodes" ...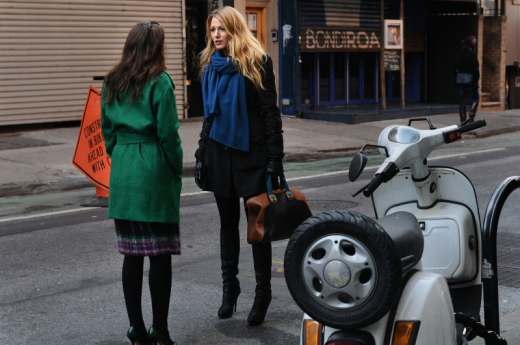 Enough with the trenches, Serena! We're running a count and it's going to hit double digits very soon! A nice cashmere scarf and gorgeous Fendi go a long way, but lose the trenches and toss the sweater dresses already.
We know you're all-American with your California hair and your riding boots, but shake it up a bit, you can't even get Dan to give you attention.
Actual Trench: Burberry Trench
Steal Trench: G-Star Monroe Trench
Actual Bag: Fendi Chameleon Duffle Satchel
Steal Bag: Clare Vivier Messenger Bag in Cognac
Steal Scarf: Theodora and Callum "Theodora Scarf"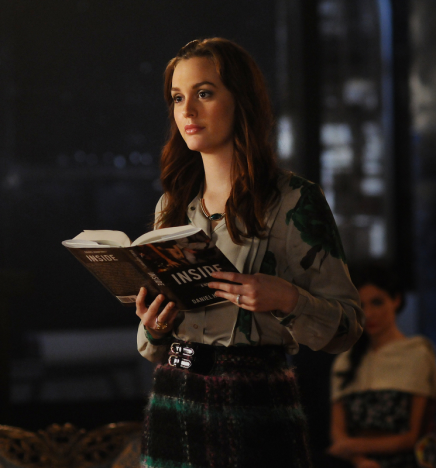 Underneath the Kermit coat, Blair was cozy in her plaid skirt, printed blouse, and eye-popping pink scarf.

The color coordinated combo, however, was not enough to save her from the Gossip Girl make-up department ... or Dan Humphrey. Sorry, B!

Actual Skirt: Milly 'Suzie' Plaid Skirt

Steal Skirt: MANGO Tam Asier Skirt

Actual Coat: Diane Von Furstenberg 'Harrington' Coat

Steal Coat: Kaelen Ombre Jacket

Actual Scarf: Autumn Cashmere Fuschia Scarf

Steal Scarf: Tory Burch All Over T Scarf

Good intentions, bad hair. Poor Chivy. Can we still call her that now that the jig is up? With the cards not in her favor, Ivy stood by her faux grandmother's side, despite an angry Rhodes clan and a pissed off Lola.

Her hounds tooth coat was on point, though, her hair not so much.

Actual Coat: Cinzia Rocca Houndstooth Walker

Steal Coat: Anna Sui Fuzzy Houndstooth Jacket in Cream

Steve Marsi is the Managing Editor of TV Fanatic. Follow him on Google+ or email him here.

Tags: Gossip Girl, Fashion